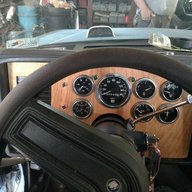 Buford T. JuSStice
Master Mechanic
Hey guys. Started having a problem with my wagon today. Took it out for a spin and ended it right away because it's not shifting out of 1st gear and the speedometer isn't working. I tried adjusting the TV cable, and it didn't do anything for the shifting problem. Pulled the speedometer cable, cleaned it up and lubed it up with white lithium grease, didn't solve that problem.

Does the governor gear mesh with the speedometer gear? That might explain both issues.

Figures too that I just fixed another problem with the car not charging the battery, and now something else decides to fail. If it's not one thing, it's another with this thing.