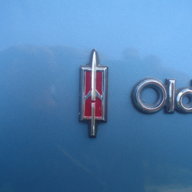 Apr 25, 2009
5,614
5,166
113
Took a little drive around my hood this morning and snapped some pics of all the stuff rotting away in fields and driveways. All within 5 miles of my house. With very few exceptions, none have moved in the last 5 years. Sorry in advance for photo quality. All were taken from the comfort of my driver's seat.
Early Blazer. Looked complete.
50s vintage canned ham that looked remarkably straight.
This house probably had 100 cars, pickups, RVs, boats, and trailers stacked around it. Looked like about a dozen 40s cars in one corner.
Datsun 510 wagon and Jeep Commando. There used to be a 510 2dr there about 4 years ago.
A couple Chevy 4x4s and an old trailer (tons of old trailers like that around here).
Honorable mention for this empty parking spot. There is occasionally a '65ish Corvette parked there. The guy daily drives it. Same guy that owns the 4x4s above. Also has a camo Humvee.
'56(?) Caddy and mid-'70s Ford 4x4.
Power Wagon and '54 Chevy triplets. There was a SWB squarebody 4x4 just out of frame to the right.
Shoebox and mid-'60s Ford pickup.
Same lot had the Jubilee tractor, old Ford cab, and Lemans. There's also a '58ish Ford pickup behind them.
4