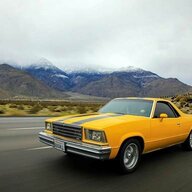 Not-quite-so-new-guy
Supporting Member
I have been a long time lurker of the Gbody forum sourcing information and gathering ideas. Figured it is probably time to join in on the fun and share in the fun. A little about the car, 1979 el camino that I acquired many moons ago for my first car at 14 years old for a father son project. As many of you the car has gone through countless design changes and upgrades. Currently it has a basic gm crate 350 with a comp cam XE268H controlling the fuel is MSD atomic efi (smog legal!) basic jegs headers and 2.5" dual exhaust through flowmasters. Out back I just scored a GN 8.5 with 4.10 gears, need to re-gear or get a different transmission with overdrive.
This car has been very important to me over the years as I share many fond memories working late at night with my dad to make sure it was drivable by morning so I could make it to school, or all the times I shared with friends cruising around trying to pick up girls. But my best memory is the first date I had with my wife taking her to the drive in movie theater and eating Chinese food on my old bench seat. To the most recent memory of spending my bachelor party weekend driving from San Diego to LA to meet with Roadkill and caravan out to tucson dragway for a weekend of racing (best picture of the car below was taken by roadkill on the I-10). I look forward to the new memories I will have with this car as we just found out we are due for our first child in October of this year, will I get to have those same flashlight moments with my child, I can only hope.
Future modifications are up in the air at the moment as I still have to comply with wonderful california smog laws. If this new AB220 bill passes I will be in the market for a new drivetrain with more power.