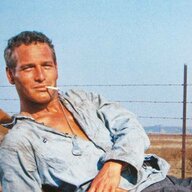 joesregalproject
Comic Book Super Hero
It's approaching three years since I've done much of anything to my Regal and I'm just now preparing to get back into it. My interest in working on it kinda waned after I got all the body work done so I set it aside, moved on and completed a few other projects. But now I've pretty much got all of those projects to a point I can consider them complete and I can return my focus to the Regal and have it as my sole project.

I spent the last few days just cleaning the garage around it, lots of sh*t seemed to have accumulated during the last 3 years. Monday was garbage night so I put a ton of stuff out for the trash and organized and cleaned the garage so I'll have a neat workspace.

Now I've gone back and forth about a million times over what to do with this car's drivetrain, from Buick 350s, to Buick 430s, to SBCs, to LS swaps to crate motors. But for right now, I want to get this car running and driving on a tighter budget, without half-assing too much. Even if it's not my dream powertrain, even if it doesn't make a ton of power. Just something that will look nice, sound decent, not be a total dog like the V6 was. That will keep me happy for the foreseeable future.

So weighing my options, I think the best choice is to buy a good running 87-95 TBI motor, putting an intake and a carb on it, clean it up and paint it, and run it. Yeah the heads on the TBIs suck, but they are plentiful and can be had for a lot less than a Vortec. As for a transmission, I plan on finding a used, working TH350 and running it as-is. I'll have it on top of a dual hump crossmember. For now I'm not too worried about the 7.5 open rear as it is mechanically fine and has brand new brakes on it, it's just very poorly geared (2.41, I think?) and not limited slip. I think 7.5 should be strong enough to hold up to this very mild setup.

I'm starting with small stuff, I found a set of frame mounts for $10 on Craigslist and I found an Edelbrock 1405 with electronic choke that's barely used for $160. Im going to reuse my driveshaft so I'm going to put new u-joints in it and maybe replace the slip yoke.

As for intakes I think I'm going to go with the Summit branded Weiand 226016 or if I can find a good price on a used Edelbrock 2104 I'll use it. With the crossmember I'm tempted to go with the super cheap Jegs unit but the exhaust fitment has me a little nervous. Still it's much cheaper than the G-Force x-member. Im also probably going to use a set of shorty headers. The ones I've found are Hedman 68600. Can anyone confirm or deny that those headers will work with a column shift? Also any word on the quality of them?

Anyways this is the unofficial thread for getting the Regal back together, so for now anything about the car will go here. I'm going to try and move this project as fast as I can, but it's still probably gonna be slow progress. Certainly won't be done in a month or anything.
Last edited: