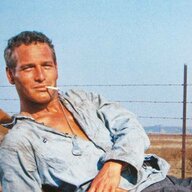 joesregalproject
Comic Book Super Hero
I'm excited about it. The weight difference is unbelievable.
I dropped the manifold off at the machine shop today. Bob thought it was in pretty good shape.
The timing cover is now installed on the short block. Also Bob straightened the oil pan and glass beaded it. The windage tray is installed, as well as the Melling oil pickup, and the oil pan itself.