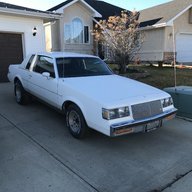 Sloppy McRodbender
Supporting Member
Yeah, I have done it enough, dropping a tank can be miserable if strap bolts snap off etc. I would definitely cut a hole in the trunk when I go EFI.
An ATV/Motorcycle jack makes it pretty painless. I can drop mine in about 30 minutes including time to put the car on stands.
I ditched the stock hardware for some better bolts and its super easy now.