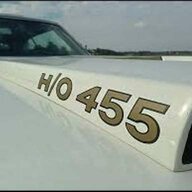 69hurstolds
Comic Book Super Hero
Supporting Member
Starting bid at 499...wow!
Find many great new & used options and get the best deals for 1986-1987 OLDSMOBILE CUTLASS SUPREME 442 SHIFTER PLATE NOS GM 22528632 IN GM BOX at the best online prices at eBay! Free shipping for many products!
I got a couple of these stashed away somewhere, and with matching ash trays...for these prices I could sell them and retire.....oh, wait...
The plate fits 86-88 with D55 console with MW9 (except 87 442). 442's it fits years 86 only. It'll fit any 78-88 console actually except H/Os, but it's correct for the years mentioned.