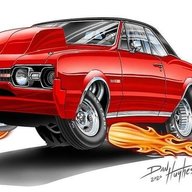 Dec 26, 2013
4,598
4,624
113
Who's gone beyond replacement 3.5s and Q-forms kickpanels?
Back when I was doing car audio, Mr. Clark had 10s in the kicks if my memory serves me correctly. I'm thinking that if he got 10s in there, I can surely fit an 8. So, I ordered some of these:
I know Soundstream ain't what it used to be since they sold out to the Asians, but I always loved their soft dome tweeters. They appear to be similar to the originals. I figure that if the mids don't work out, at least the holes are there to change them out. For just shy of $100 for all four, it's worth a shot.
I have a set of 4" MB Quart mids in the cabinet that used to be in my 79 T/A on a wedge baffle that fits in the center 4x10 hole, which my Bonneville has. I'm torn whether to stick them either in there or on the ends where the 3.5s are for a 3 way setup. Or, just leave it a 2 way...
I'm pretty well set on mounting the tweeters at the bottom corners of the dash; my red car is like that, and it works well.
Any ideas?