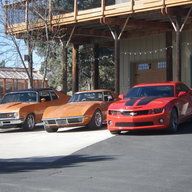 macgyver49
Not-quite-so-new-guy
Just wanting to share my experience with mail order.
I ordered door straps from dixie restoration January 2nd,
after 6 weeks of emailing them wondering where my parts were, I finally get a call saying they no longer use that supplier.
I wonder when they knew that and why keep my money all that time never once saying anything about "backorder".
they did say they could get me longer ones and I would have to drill new holes in the door panel, ain't going to happen.
I went to Mikes Montes and ordered the same thing. I got a conformation that day and 1 hour later a ups tracking #
I know who I'll be using from now on.