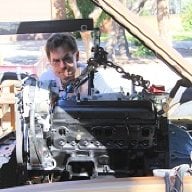 Living in the Past
Supporting Member
Swiped from
http://caddy500.com/index.php?topic=545.0
The chassis drawings may be useful for other models:
The El Camino and wagons share dimensions.
The coupes and sedans share dimensions.
Metric Frame Info
I ran across this last week and I figured there would be a few others that would like to save it.....
1978-1988 A & G-Body Chassis Information
The purpose of this page is to try and document some of the FAQs about the '78-'88 A& G body cars. The majority of the cars produced were the Buick Regal, Chevy Monte Carlo, Oldsmobile Cutlass, and Pontiac Grand Prix. The earlier cars include the Chevy Malibu ('78-'83) and El Camino ('78-'87), Pontiac Bonneville ('78-'87 4-door), and Pontiac Grand Am and Le Mans ('78-'80 2-door). GMC also had their own version of the El Camino known as the Caballero.
- Body Mount Bolt Information (1982-88)
There are three different size bolts.
Position 1 uses GM P/N 10049638 (sold ea., 2 needed). Bolt is 12 X 1.75 X 95mm long.
95mm is not common so you have to use 100mm.
Position 3 uses GM P/N 14085301 (sold by pkgs. of 5, 2 needed). Bolt is 10 X 1.5 X 55mm long. Also need two nuts.
Position 2, 4, 6, 7 uses GM P/N 3524497 (sold by pkgs. of 5, 8 needed). Bolts are 10 X 1.5 X 80mm long.
- Interchangeable Parts Between the G-bodies - Mechanical
• Complete front suspensions (Upper/lower front A-arms, spindles, calipers, steering linkage, steering boxes)
• All Brake Parts (lines, hoses, calipers, pads, rotors, bearings, etc.)
• Dual-diaphragm brake boosters can (and should) be swapped for the single-diaphragm boosters
• Complete Rearends (ex. an '87 Monte SS posi 3.73 rear will fit in an '81 Olds Cutlass)
• F41 Sway Bars into non-F41-equipped cars
• Grand Prix triangulating frame brace (ties the lower F-41 engine cradle-to-frame bars together)
• '78-'80 4-door Bonneville fender braces or '81-'87 Grand Prix fender braces (from fenders to upper radiator support)
• Entire Engine-bay HVAC assembly (where A/C and heater core mount to firewall)
- Interchangeable Parts Between the G-bodies - Interior/Exterior
• '81-'88 Olds Cutlass coupe doors fit '81-'87 Buick Regals, and vice-versa
• '81-'88 G-body interior wiring to add or repair power windows/ locks/ trunk
• Steering columns between similar years
• All weatherstripping (coupes)
• Outer windshield trim and wiper arms (coupes)
• Drip-rails above the windows (coupes)
• Lower door panels, along with most upper door panels
• Most interior trim (A and B-pillars, factory T-top trim, lighted vanity mirrors, and headliner boards)
• Seat belts and actuators
• Carpet
• Stainless-steel "Body by Fisher" door sills
• Front seats (bench or buckets. To install buckets in a solid-bench car, get the bucket seats, tracks, and mounting plates with studs from the floor of the donor vehicle, and weld the plates in.)
• Rear seats
• Rear package shelf (and CHMSL for '86-up vehicles, fed. mandated)
- Additional Parts from Donor Vehicles
• '82-'02 S-10 upper/lower A-arms and spindles
• '82-'92 F-body lower front A-arms - steering stops need to be ground down, but fit perfectly
• '82-'92 F-body lower rear control arms
• '82-'92 F-body front sway bar (34 or 36mm bars)
• '82-'84 F-body aluminum rear brake drums
• '87-'92 F-body aluminum radiator (5.7/auto application - Modine 951)
• '87-'92 F-body XH steering box for 16" wheel upgrade
• '88-'92 F-body serpentine belt setup for SBCs - use F-body alternator, p/s pump, A/C compressor, condenser, and lines
• '78-'96 B & D-body front spindles for 12" brake conversion
Note: The big-brake upgrade with factory parts requires aftermarket tubular upper control arms. '78-'90 is trial-and-error; most cars got 11" brakes, while wagons and 9C1s received the 12" brakes. A sure-fire winner for 12" brake spindles is any B-body from '91-'95. 1996 B-body taxi/police cars and & D-body limos have larger lower ball joints, so these spindles should be avoided. Regular '96 B-body spindles are fine.
• '84 S-10 manual brake drum rear wheel cylinders (Raybestos WC37644)
• 1990 B-body master cylinder (Wagner 104660)- for use with 12" brake conversion
- 1LE Bushing Part Numbers
• Rear trailing arms - 10164152
- Moog Problem Solver Part Numbers
• Upper Control Arm Bushing/Kit - K6411
Cad-plated shells with higher durometer rubber (kit includes 4 bushings)
• Lower Control Arm Bushing/Kit - K6421
Cad-plated shells with higher durometer rubber (kit includes 4 bushings)
• Sway Bar Endlinks - K8988
Cad-plated bolts, nuts, sleeves, and washers with polyurethane bushings
• Front Sway Bar Bushing Kit -Thermoplastic - 'without tabs on mounting clamp' - one req'd
K6451 - 1"
K6453 - 1 1/8"
K6455 - 1 1/4"
K6457 - 1 5/16"
K6459 - 1 7/16"
• Idler Arm - K6187T
Bolt-in heavy-duty idler (same as '91-'96 B-body)
• Lower Balljoints - K6145T
Heavy-duty lower balljoint
• Outer Tie Rod Ends - ES2033RLT
• Inner Tie Rod Ends - ES2034RLT
• Tie Rod Sleeves - ES2032S
• Center Link - DS909