Hydraulic clutch parts for G bodies are available but are either expensive or not fully featured.
My goal is to have a pedal that was affordable, using factory parts for ease of replacement and had fully featured parts for the cruise shutoff and startup cutout.
You need
1. early (83-88 ish) manual S10 brake pedal and clutch pedal assy.
2. 3rd gen F body master cylinder
3. Nook and transmission sells a O ring to -4 fitting for the master cheap, mcloed has one for 35 and russel sells a pair for 25 or something.
4. (optional) i used a howe HRE-8287 for the lines
5. (optional) i used a howe HRE-82876 T5 hydro TOB for my t56 with an adapter bushing
The s10 clutch pedal bracket needs to be cut off the S10 brake pedal bracket that bolts from the inside to the booster. Theres 6 rivets a bolt and a few spot welds.
S10 brake pedal bottom, G body top, they are the same length.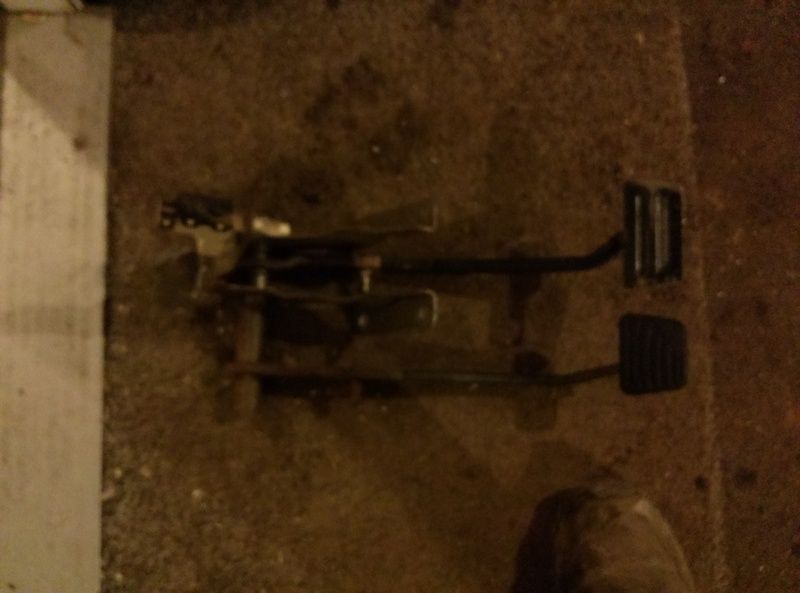 S10 clutch pedal ends up in the exact spot as the G body brake pedal, left right, top down, and in out.
The top part facing your left knee when its in the car will get cut off, and I drilled a hole in the firewall part and put a 6mm bolt. I would put a couple more around the pedal to reinforce it. The top main bolt in the S10 clutch pedal bracket gets shared and bolted to the stock G body brake pedal bolt.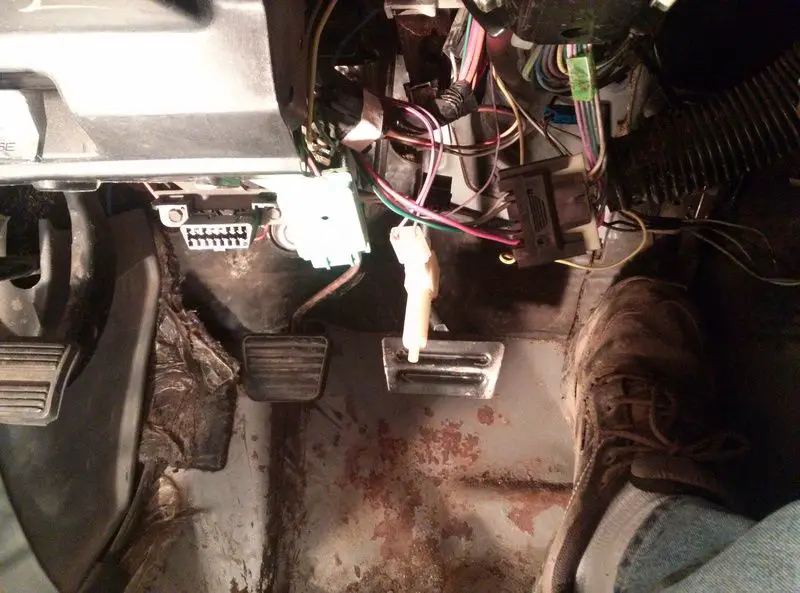 For a master, 3/4 3rd gen. I think this was a dorman. I cut off the rod off and found it was threaded, 1/4" coarse. The G body bracket pivot for both pedals is about 2" closer to the firewall so it needs to be cut down.
I welded a nut extender cut in half or so to the master was adjustable. I cut off 2 1/4, id do 2 1/2" shorter next time.
This part is pretty common, use the stock cruise hole and I made a cardstock pattern to mark holes, center punch and drill.
Improvements needed-
More bolts to hold the pedal bracket to the clutch bracket, I only have 2 or so and its a bit loose. I would suggest welding the bolts to the back of the bracket so you wont have to thread the nut on while holding the bolt. I am also missing a support rods that attach the clutch pedal pivot bolt to the firewall, again I gotta take 2" out, I am still working on that, too cold right now. Also the angle of the master is a bit too aggressive so I might have to build a slight angle wedge to make the rod push more directly straight.
My order of ops to install was
1. Remove window wiper motor
2. Remove engine harness firewall connection
3. Remove fuse panel from firewall under the dash
4. Unplug all wires from the pedal bracket and anything in the way
5. Pull any cruise wires out
6. take 1 bolt out that is facing upwards holding the pedal bracket to the dash support
7. Take the 4 nuts holding the booster on out and wiggle the pedal out
8. Drill the clutch pedal bracket off and attach to G body bracket, cut and bend as needed
9. Weld bolts on
10. Remove clutch pedal and bolt brake bracket to car with only 1 nut on top left nearest the VIN plate.
11. Bolt clutch pedal bracket to brake pedal bracket (very tough, get limber!)
12. Bolt remaining pedal bracket nuts back on
13. Repeat 4 through 1 in reverse order
14. Put S10 clutch master resovior hose and -3 or -4 fitting onto 3rd gen master before it goes into car, theres not enough room for later
15. Put master cyl in place and bolt in, bleed system (that was tough, make sure the master is fully extended before you attach the pedal, if the master isnt fully out it wont grab fluid on return stroke
16. Make sure the pedal fully disengages the clutch without going too far, if it goes way to far the pressure will spike and you run into high pressure and blow the seals.