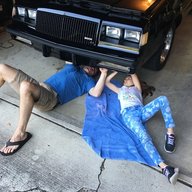 BuickBroke$
Not-quite-so-new-guy
Hey all, pretty new to the whole forum thing but have to say that the people on GBodyForum.com are a ton nicer, more responsive, and just plain more helpful than so many other forums that will remain unnamed. Seems so many guys have to force their opinions and get into pissing matches over nothing, it's just refreshing to see that's not prevalent here.
That being said, I always wanted a GN with an LS/turbo but didn't want to tear a real one up so kind of made one from my 60K original miles 1985 Regal Limited V6 and a poor rusted out '84 GN I picked up. I did the suspension, bodywork, had it painted and had the GN seats recovered among many other things. Picked up a 100K mile 5.3L LS and 4L60E out of an '05 Tahoe 2wd pretty much 100% complete for $1500.00. It's a drive by wire with pedal, all the accessories, harness, ecm, trans still bolted on, o2 sensors, driveshaft yoke, etc, etc. I'm not new to cars, but completely new to the LS and turbos so I'm hoping for some help with the basics which I've yet to find searching through the tech sections. My goals are pretty simple, I just want a fun reliable car with a bit of power and the less I have to do the better. Meaning, if I don't have to open the LS I don't want to. Ideally I'd like to drop it in with everything bolted on still and add the turbo/inter cooler.
Has anyone done this, just added a turbo without adding a cam and springs, swapping out the pan, changing injectors? As they sit these LS's make a good amount of power, and with a mild turbo I think it'll be a fun car. No place around southern WA to go fast anyway, unfortunately you're always stuck behind some one...
Some questions below, and thank you all in advance for any help, I know we're all busy and it means a lot to some of us that people still help others out!
Mounts: Definitely want AC and don't want to have to alter heater box, anyone know of a mount that gives you that?
Cross member: Buy, make or will factory cross member work?
Driveshaft: I had one made by Strange for my last project but wonder if there's a good junk yard one that I could modify?
Oil Pan: I know the factory pan sits about 2" below the cross member, but has anyone had any issues or should I spring for the Holley?
Radiator: Who makes one that works well and is easy to fit in, or is there a junk yard one I can use that fits?
Fuel: My car has a mechanical pump, so I wanted to just add a good inline pump instead of getting a new efi tank, any thoughts? Do I need to add a sump like a lot of guys say? Will I need bigger injectors with a mild turbo?
Turbo: Would love to try one of those cheap Chinese Ebay turbos that I hear good things about, anyone have any experience with them. IF not, next best alternative on a budget?
Manifolds: Wanted to just flip the truck manifolds that are on the engine, will that work or is there a good bolt on set that fit snug and work well?
Blow off valve: Cant stand that sound some turbo cars make when they blow off, I know factory cars route that back into the engine somehow? Or is there a quiet one?
Inter cooler: Is there a bolt in or good cheap one out there? Air to air only.
Exhaust: Was thinking 2.5" dual and no mufflers but will that be too loud? would really like a quiet car.
Floor Shifter: So my car came with column shift, but I have the center console and shifter out of that wrecked '84 GN. What do I need to make this work? Already have mounts welded in place but no cable. What cable will work? The '84 shifter is odd cause it doesn't have detents like the later years, is that an issue? I'll need to figure out the backup lights and neutral safety switch.
Gauges: Can you get the factory warning lights to work with the LS? What needs to happen with the trans to get the speedo to work? Also, my car has a computer under the passenger side kick panel, what does this control and will I need it still??
Battery: Anyone leave it in stock location up front with a turbo or will it need to be moved to the back? If I move it to the back then I'll have to run a cutoff switch if I ever want to take it down the strip, and I'd rather not have a switch back there.
Trans: Would love to use the stock converter, any thoughts? Would a shift kit be worth doing?
Lots of questions, but I think it will help lots of others to have some of this more basic info. Thanks!