I posted here last year and got a great response so here is an update on the cutlass:
Last summer I pulled the old 3.8L v6 from my 1983 cutlass supreme brougham edition. After I pulled the engine I realized it had a hole blown in the engine block so I took off all the parts that I could reuse. In the meantime I searched high and low for another v6 for a restoration. I couldn't find an engine, but I did find an 1980 Oldsmobile 4 door Cutlass in located in Billings, Montana with a working v6 engine. It was painted primer gray but aside from a cracked grille, cracked headlight bezel, broken turn signal, and somewhat rough headliner/interior, it was in good shape. The heat worked, but it had no radio. The key was stuck in the ignition. The interior was faded, but it was mostly rust free. It had the normal 40 year old car problems, but it wasn't bad.
I took a greyhound at 3am to arrive in Billings and meet the owner at 7am. Right before I left my dog got out and got sprayed by a skunk. It was a chaotic trip but I made it happen and bought the car. The guy selling it was generous and took it down from $1000 to $700, gave me some oil and coolant, signed the paperwork and I was on my way. I drove it 150 miles back to Bozeman and stopped once to top it off with oil. It rode smooth like a cutlass does. I got back home around 11am feeling quite good albeit a little tired from not sleeping.
I had every intention of swapping the v6 into the 83 two door at that point, but after a few days passed I decided I wanted to keep the 4 door. My plan changed to painting and restoration on the 4 door and upgrading the engine in the 2 door so it could boogie. On the 4 door I fixed the bezel, turn signal, and grille with parts from ebay. I stapled the headliner up, installed a new ignition lock cylinder (made a video for that), changed the oil and bought new plugs, rotor, distributor cap, and plug wires. I registered and insured it and she's driving well to this day. The 2 door is sitting in the driveway with the hood off and a tarp over the engine bay.
My new plan with the 2 door is to drop in a carbureted sbc 350 crate engine and do all the necessary mods. The transmission is a TH350 with B.O.P bellhousing so I need the BOP adapter plate. I'll need a full engine, flexplate to fan, oil pan to carburetor. I'll need to replace the coil springs and fix up the suspension using new ball joints, control arm bushings, tie rods, steering linkage, sway bar. Also, I need a v8 fan shroud, engine to bracket mounts, clamshell frame mounts. I will need to reroute the fuel line to the passenger side. Also, I'll need the torque converter lockup kit and a couple six packs of beer. I will do everything in my power to make that happen this summer. I have been doing a lot of studying over the winter and it is time to revive the brougham.
Thanks for reading my story and let me know if I forgot anything. I'll be posting updates of my progress.
Engine Pull on the 83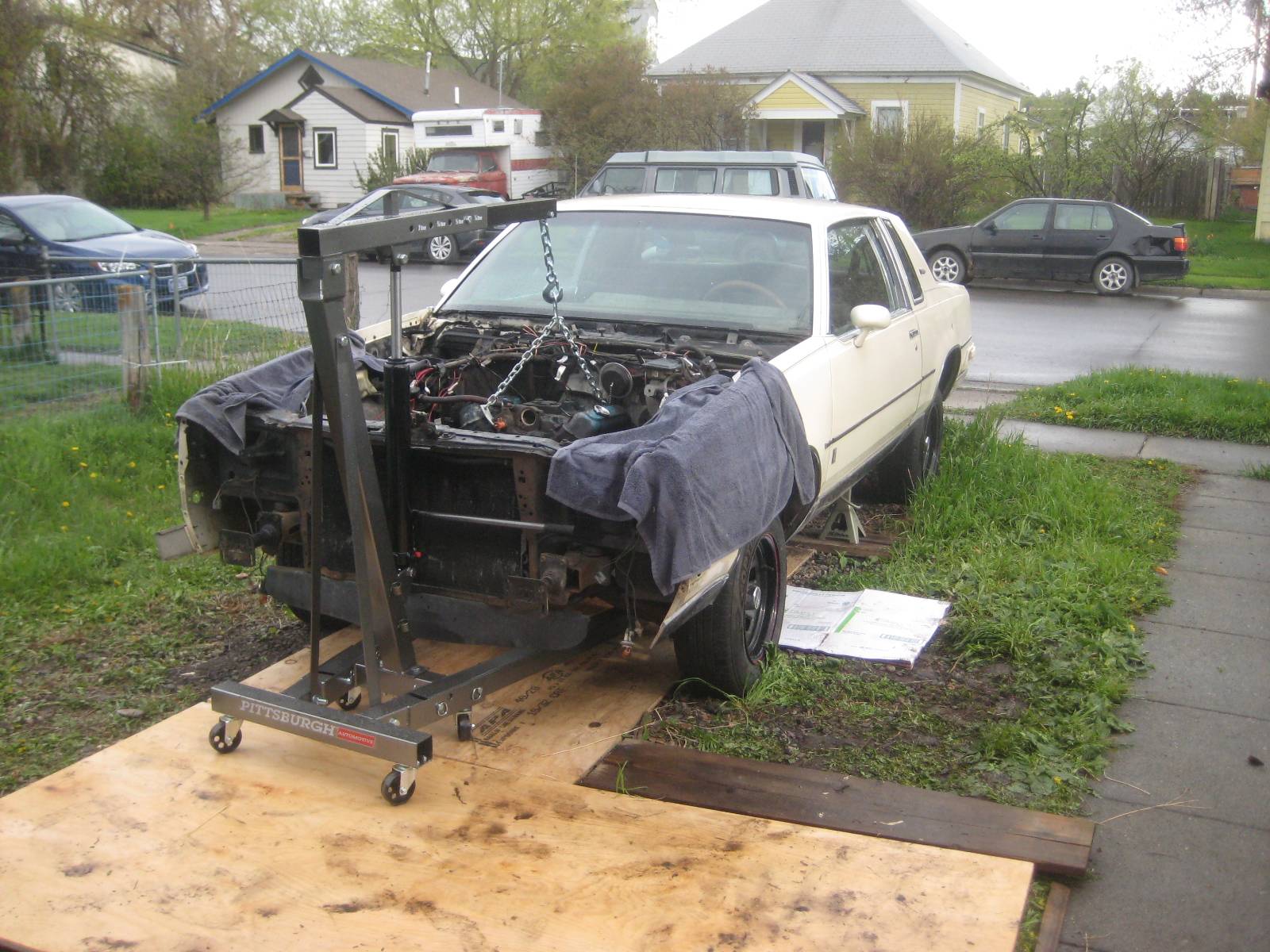 '83 cutlass supreme brougham 2 door in the foreground, 4 door cutlass in the background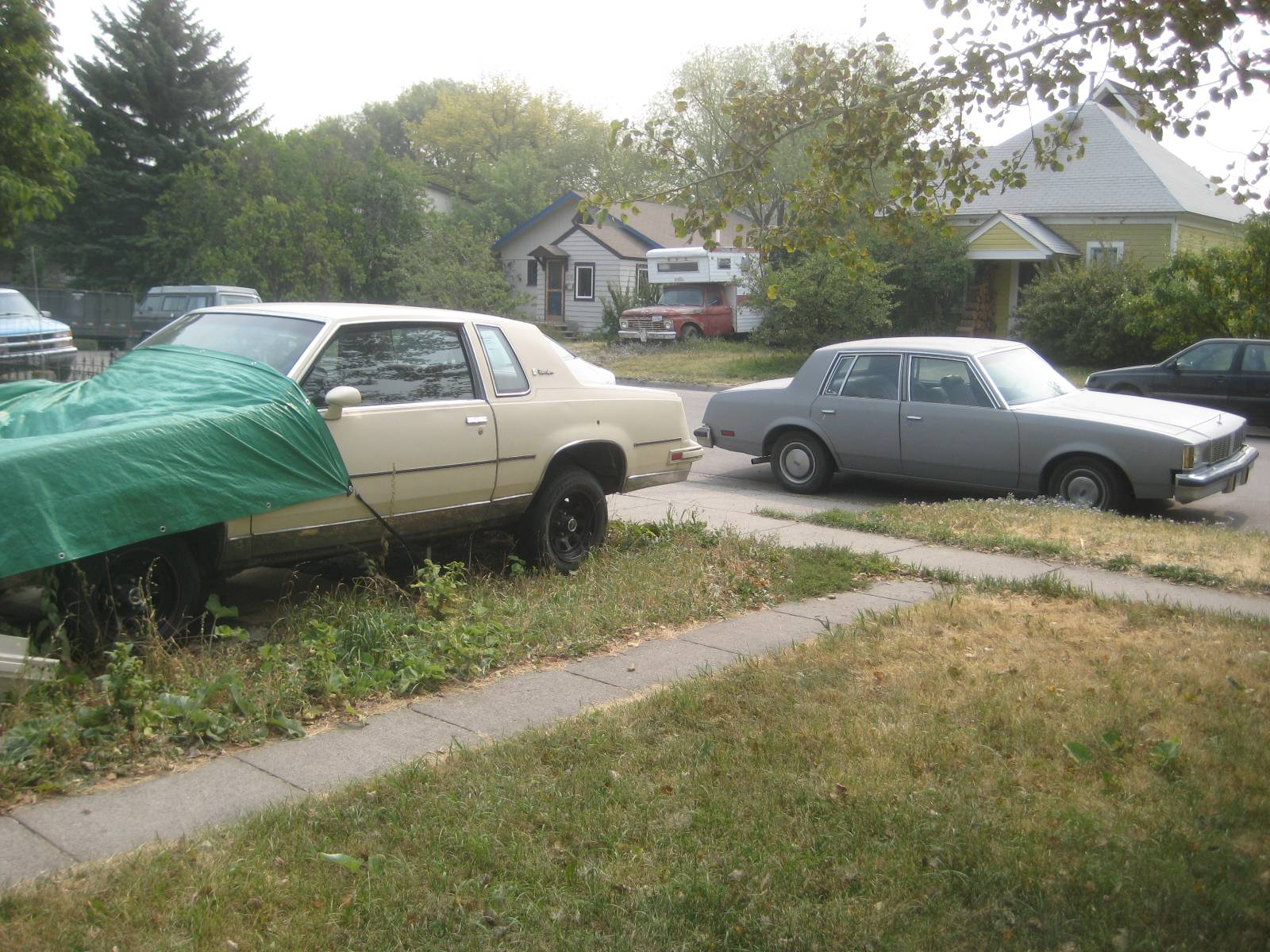 Engine bay of the 80 with the 3.8L v6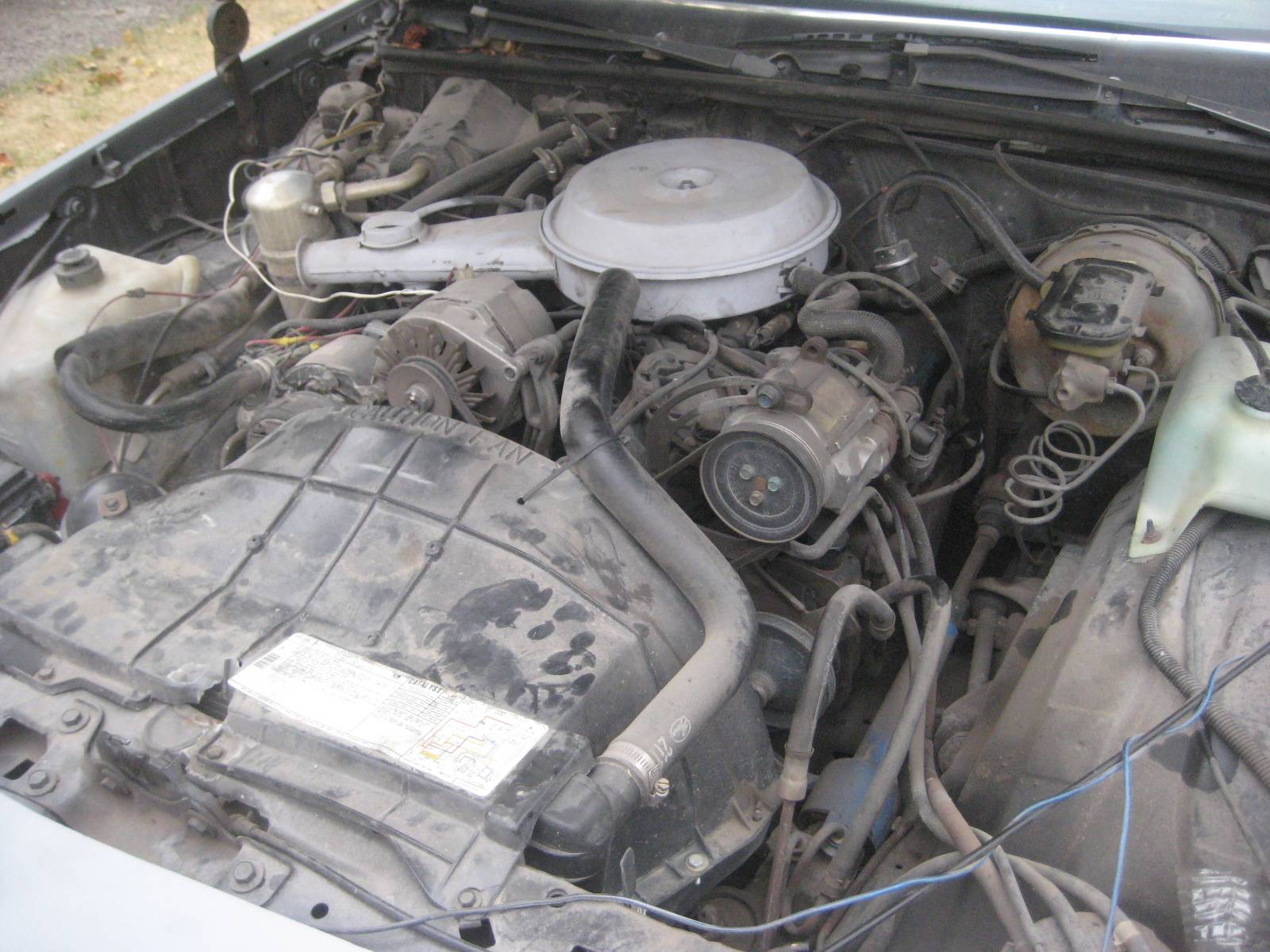 Engine bay of the 83 with the engine pulled