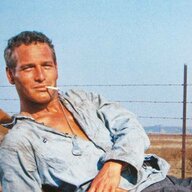 joesregalproject
Comic Book Super Hero
Not exactly a "G Body Tale", but a tale I believe is worth telling, nonetheless.

Two weeks ago, I noticed a sign outside of the local Nissan dealership saying "Lot Attendants Needed, Inquire Within". Me, figuring it might not be a bad gig, pulled in, and went to the front desk and filled out an application. I was told it would be a full time position, which isn't ideal, but I could probably manage it. Anyways, I got a call yesterday asking if I was still interested in the position. I said yes, and they said "Okay you start tomorrow at 9 am". I told them that wouldn't really work for me as I already had the next day planned out, but they kinda of cut me off and I ended up agreeing to come in.

So I show up on time this morning, actually a little early, and I had to go to another sister dealership to fill out new employee paperwork. I was asked about my schedule and told I was guaranteed Sunday off. They asked what other day I would like off, but it couldn't be Monday, Friday, or Saturday. I was also told I wouldn't have a choice what shifts I wanted to work, either. They would decide AM (9-5) or PM (1-9) shifts for me. Neither shift is really ideal, I would rather be in service or parts and start at 7am and end at 3pm.

After returning to the Nissan dealership, I was directed to park "in the back" and then meet the manager. What I wasn't told was "the back" is a dirt lot that is about 100 feet into the woods behind the dealership. My car is a mint BMW E36 Coupe that I've had for 3 days. Needless to say I was not pleased about having to park in a dirt lot in the woods. I went back up to meet with the manager who informed me that the current lot attendant who was supposed to be training me today quit this morning without notice. So a salesman who used to be a lot attendant would be coming in early to show me the ropes. The salesman who was a very nice guy, gave me a lot of the 'inside scoop' on people at the dealership and their pet peeves and some tips and tricks. After he showed me around, he gave me 4 sets of keys and said "find these cars, put gas in them, and find somewhere for them in the side lot of the dealership." Nothing is organized. At all. Period. The dealership has 3 remote lots, and they are each a half mile from the dealership in opposite directions. I should also mention it was 90* outside and humid at this point. After looking at the main dealership for these cars, I found only one. I put gas in it (which is a real pain, because you have to record the mileage, lot number, vin number, pump readings exactly, number of gallons put in, and price. It takes about 15 min per car), and went back to the showroom and asked where to find the other cars. I was instructed to walk to the remote lots and look there. I walked to the first lot, and nothing was there. So I walked back past the showroom, to the second lot, and found the missing 3 cars. I brought them one at a time and put gas in them, then walked back to the remote lot to get the next. I had to walk back twice for the one car because the battery was dead and I needed to go back to the showroom and get a jumper pack. After lunch, I was instructed to find, gas up, and detail a few cars that would be leased to enterprise as rentals. The detailing bay was disgusting. It smelled like feces and when I asked why, I was told "well the sewer runs through here and its been broken for a few years". I'm pretty sure that is a health code violation. When I asked why the bay was so unorganized I was told "Well the last few guys who had your job were only here a few weeks or so each (before they quit), and they never really cleaned up after themselves. Anyways, the owner is pissed off that (the detailing bay) is a mess and its your job to fix it." It was around this time I was also informed that the dealership is designed to have 6 full time lot attendants, 3 for morning shift and 3 for afternoon shift. Currently there is only me and one other person (who according to everyone at the dealership, is of very low intelligence). My final assignment for the day was to tighten up the used car lot as there were empty spaces everywhere. This task wasn't too hard but you wouldn't believe the lemons they had for sale. Just garbage cars with all sorts of issues. I kept losing my power steering in a certain Nissan Versa and in a Mazda 5, the car would stall anytime you applied the brakes. At the end of the day, I was sore and tired and could clearly see I was essentially the dealership's b*tch. The job was neither fun nor engaging, nor challenging. Just boring and tiring. I decided quite quickly that I would not be returning for a second day of work. I can easily see why they haven't been able to keep a lot attendant for more than a few weeks at a time, and I don't need that long to figure out that I don't want to work there. I wasn't given the opportunity to speak to the manager before I clocked out, but I called him after I left and told him I would not be returning and I appreciated the opportunity to work there but it was not the job for me. I apologized for having wasted any of his time. He seemed mildly angry and upset but accepted that I wasn't coming back.

I will end this with the things I learned today. I thoroughly learned the inner workings of the dealership, how the 'sales experience' is presented to the buyer, how salesman only see customers as money walking in the door. I learned that dealership will have 3 higher trim models for every base model so they can push customers into buying the more expensive model. I learned that most salesmen are pretty slimy people and I actually felt kind of dirty for a minute when I was told "This whole dealership is a mind game. We want customers to believe there is more variety than there actually is and believe that they are getting a deal, and believe that we are a modern, highly organized, efficient store. At the end of the day, the only thing that really matters is how many sales were made." I learned that the service department is wholly and completely separate from the sales department. And most importantly I learned that I will never work as a lot attendant again.

Anyone else ever quit a job really fast?