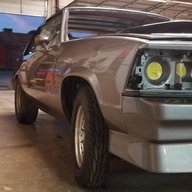 Greasemonkey
Thread starter
Curious, how's the different panels look in person in the light?

I'd always been told that when dealing with metallic colors, if it isn't painted together you see the difference between panels because the flake doesn't lay the same.

Sounded like in your build the car was painted at least 3 or 4 separate times (shell, hood/trunk, bumper).

Maybe it's just that I usually have high flake or tri-coat metallics these days? Just curious.

Once you finish the wife's car toss her your keys and say "your turn, trade back when you're finished"
I get where you're going with your question and yes there were 3x different paint phases because of color change
First was cut in (firewall, inside fenders, inside doors, door jams, underside of deck lid and jams, underside of hood, and roll bar
Second was body exterior which included header panel, bumpers, fenders, hood, doors, deck lid all sprayed at the same time
Third was the stripes
So there was no change in panel color because the exterior base color was all painted at the same time. If I failed to covey that in my posts, I apologize.