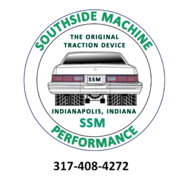 SOUTHSIDE MACHINE PERFORMANCE
GBodyForum Sponsor
SOUTHSIDE MACHINE PERFORMANCE FRAME NOTCH KIT FOR THE G BODY.


We get several calls a day asking if we have a frame notch kit. Of course we do, not everything we build is listed on the site. Now this is. Nothing fancy, just makes more room for wide tires if you are not going to back half the car for about $100.


Save time and headache when trying to build your own notch with our kit.

CNC cut to fit all G Body frames. Made from Premium Grade 1/8" (.120") Pickled and oiled steel (HRPO).

Optional 3/16" and 1/4" main plates

This comes with both right and left frame sections and ends to bridge the gap from the notch.

This is thicker and stronger than the factory frame.

This kit requires metal fab experience and can be done in the garage with a decent welder.

Will need a welder, hammer, die grinder and a bench vice.

Due to the Lack of consistency with the G Body frame over the years some minor trimming and will be necessary.

Give us a call and see what we can do for your ride.



​