I figured with the amount of time - past, current, and planned/future this truck has been slated for, it maybe deserved it's own thread of sorts. Give me a place to better document it's progress (such as it is) anyways.
I've always had one or more square bodies around. Just so happens I'd sold my 76 rcsb because I realized long-term there was very little about the truck I wanted to keep long term - it was a decent driver, but, making a list of "wants" and comparing it to what I had... well, I'd be keeping the frame and nothing else. So off it went, and, then I just kept poking around and around to see what was out there.
So, 4th of July weekend I found an ad on Craigslist for what looked to be an amazing survivor of a truck at a ridiculous price. After calling and speaking to the owners, turns out they only had old pictures, and the first thing I was told was that the truck no longer looked like what was in the ad. Well, ok, it wasn't far so I made the trip anyways.
History of the truck was it was bought to new to use on and around a farm. It was a 1977 Bonanza trim package, basically a short lived dealer option package group that bundled certain popular optioms together in one of several assortments at a reduced cost. Eventually it was no longer needed for the farm, and, the wife of the guy I bought it from just happened to work at a bank with the original owner's wife. After a decade plus of use (and abuse) the guy I bought it from couldn't drive any longer due to health issues and it got parked, in a field, behind a mobile home and just left untouched for about 4 years. Health declined further, both for owner and truck, and that brought me to a 4th of July weekend visit to look at an old truck.
The miles were original at around 79k. It was solid where it counted - the welded on panels - but everything else was rough. It had a nice hood, cab, passenger bedside and front grille. It also had an inline 6 engine which I've always had a weakness for. Other than that.... well, dry rotted tires, dead battery, and pretty beat up bolt on panels. Passenger door not only had a dent, but one completely broken hinge with the other bent to where if you open the door it dropped over 10 inches towards the ground for starters.
However, I did get him all the way down to $500, probably an overpay, but, it had the bones for what I WOULD enjoy building.
So, had it loaded up on a flatbed, and followed it home.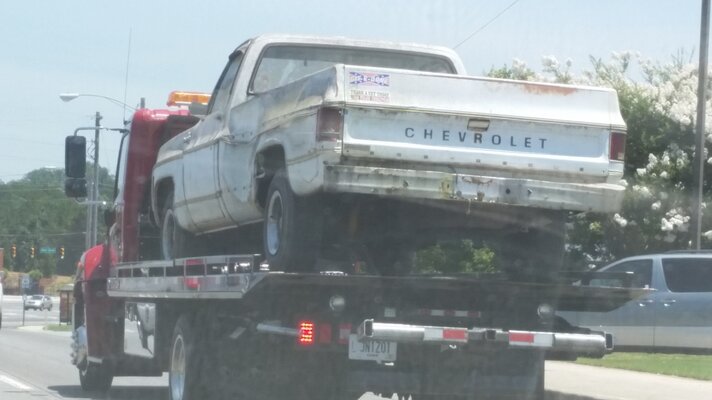 Once it arrived, it needed SERIOUS cleaning.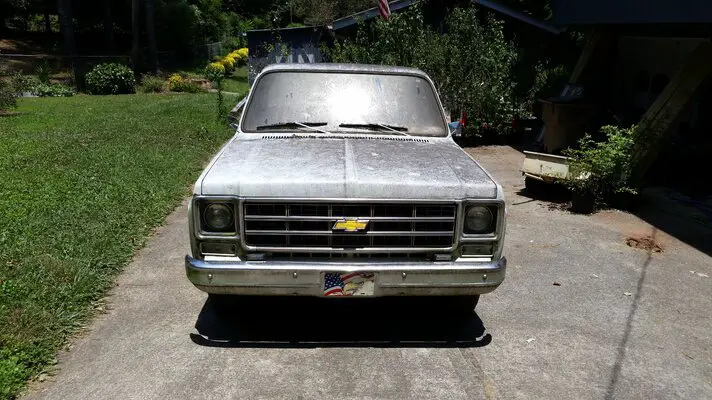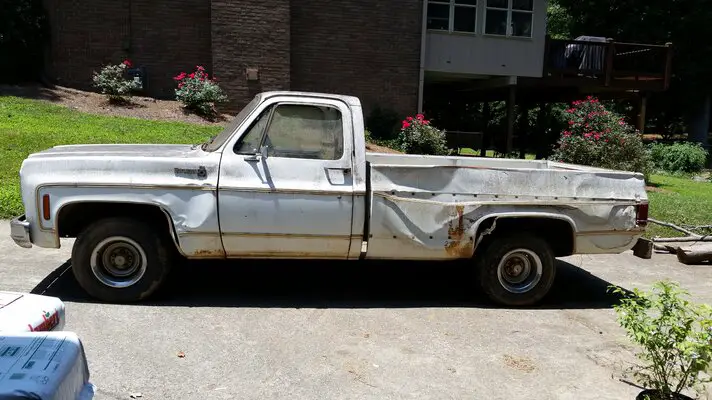 Not sure if I have any pictures of how the interior showed up... but picture old, dirty, old, cracked... with lots of trash. For some reason (not related to water leaks) the driver side carpet was ripped away and removed from the truck. What's left of the passenger side had small ant nests under it. Oddly enough, except for a big chunk being missing it was still bright blue and unstained. Oh well.
A quick going through showed most things rubber were pretty rotted. With a fresh battery and gas the engine ran... even if it didn't idle well at a stop without the Sammy Hagar trick (one foot on the break, one foot on the gas....) the bigger problem was the rubber fuel hose between the hard line and fuel pump had a pinhole leak squirting fuel onto the side of the block. It also wouldn't hold coolant or pressure properly because a rubber block off cap on the radiator rotted off.
So, basically at that point there was minor stabilization efforts - bandaid things just good enough to get yard work and home depot runs going, and start collecting parts. Replace just the leaking hoses. Replace just the rotted caps.
The only two permanent fixes were putting in the biggest fitting duracell battery I could buy. Who needs 1000 cranking amps? This guy. Also bought Michelin LTX M/S 2 tires to put on a set of factory rally rims.
And that was the start.