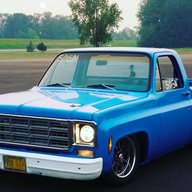 truckdoug
Not-quite-so-new-guy
i'm excited to have a g body again after over a decade away!
picked up this lil brown biscuit after some other projects were sold.
some surface rust and one spot in the passenger footwell, but overall pretty stoked on how straight it is.
gonna yank the "built" (overcammed) 350/350 combo here shorty and send that to the junk yard
it's gonna get a cage, and 8.8 rear and a 4.8/80e/s475 combo and hopefully be ready to race by summer
first I gotta sell this lil beaut (ive been doing the squarebody thing for a few years)
2 owner '79 cheyenne with no rust (!!!!) warmed up 5.3/th350/8.8 rear
and this was my last real build. '77 gmc sierra with a 6.0/80e/9" and a billet s480 that made 1000+ at the wheels.