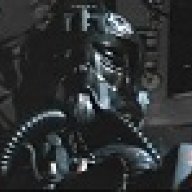 Clone TIE Pilot
Royal Smart Person
So the Regal was acting up some today, an off idle stumble. Hooked up my analog dwell meter to the tach port on the distributor and it read high. I know because I also had a scanner plugged into ALDL port to give me RPM readings. Also when I connected the analog tach meter, I got a shock.

At first I thought it was the analog meter, I switched to voltmeter mode, connected it to a AA battery and the reading was correct. Took it apart and did some tests with a Multimeter and everything seemed ok.

Today I took the distributor cap off, removed the coil and found some cracks and signs of melting around the one coil mounting screw where the grounding strip goes. Also found some of the insulation on the coil's black and yellow wires were partly melted, leaving the yellow exposed. The coil is an old Accel supercoil that came with the engine. Just wondering if this can cause tach meter issues I mentioned? Since I have a mild build, I was thinking of just getting a quality stock HEI coil as most of the performance coils don't offer much improvement on street cars.