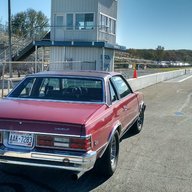 Michael Bennett
Apprentice
I'm running an '80 Malibu with a 400 small block. When I am accelerating and get to 3500-4000 rpm, the oil pressure drops from 50 ish to back down around 40 and stays there until let off the gas. If I'm sitting still in neutral or accelerating slowly it steadily climbs to 60 at 6000 rpm. I'm thinking it has to be the oil climbing the back of the pan. I'm running a Milodon 30700 stock replacement pan with a Melling MV55 standard volume pump and melling pickup.

Definitely looking to go with a more high performace pan with more capacity and probably a windage tray. I also think a Milodon 32500 pan baffle should help.

Looking for ideas from anyone who has faced this issue and suggestions on a pan that works good on a G body. I've been considering either Milodon 30908 which has it's own windage try(but I'm worried if it will fit) or the 30900 which would I would need to add a windage try. If not Milodon I was thinking 13-100 from Canton. It has a built in windage tray and scraper combo, just concerned that it says you have to run a short oil filter. I don't like short oil filters.

Appreciate the feedback!