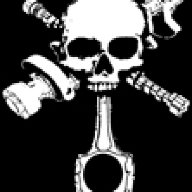 Nov 18, 2009
8,976
27,513
113
Yup, it happened. I signed up for a brand new late-model muscle car. A real douche-bag move if I may say so myself – and have been saying so for a decade or more since the whole new whorespower war took off, and every dink with a chequebook bought themselves a high powered heavily optioned machine just to feel good about themselves. Right?
Was I wrong to assume this? No. There are some seriously massive douches trolling the roads, parking lots and internet today in over-powered and under-utilized cars. But, not everyone falls into that this category, and I don't think I do either.
I never wanted a 5.0 Mistake or LS3 Crapmaro. However, there was a time around late-2013 where we almost bought the last of the CTS-V wagons (M6 and LSA so very nice); but, GM didn't want to deal so we passed and I built my own LS-powered family war wagon. In retrospect, I am glad we missed the boat on that one – because something more incredible was on the horizon. The Dodge Challenger Hellcat. I'd be lying if I haven't unintentionally-intentionally punished my darling wife with constant talk of the Hellcat since it was announced. It re-wrote the book on what a performance car could be, and has never apologized for being what it was, and interestingly enough this is the same formula that gave us the
Grand National
and GNX (because who does that?). The current generation Challenger (and this is Gen III due to platform updates) is in my opinion probably the last real muscle car we will see.
Now here's the thing: you can get a fully loaded Hellcat and it just doesn't maintain the muscle car vibe, and only guys who need cold air blowing up their fat sweaty asses buy them and keep them until the novelty wears off – worrying more about resale value than investing in themselves. But, this is always the case – they upsell you on options to make a profit riding the hype and separating you from your better judgement. This was too much for me. Then a strange thing happened in 2019 – Dodge offered a very basically optioned Hellcat with cloth seats, a manual tilt column, manual passenger seat, not *ss blowers, no standard convenience packages, nada. Just a car with a big engine at a discount. That was the trigger for me.
So that is how I ordered it – with a manual transmission, widebody, and some hood pins (plus no charge for the orange painted calipers). A tick over $9,000 CDN in options (MSRP) for what I consider to be most performance oriented and fun/analogue car available today (without the fat). It is like a base model T-type . I get that the Hellcat has standard adaptive suspension, electric-assisted power steering, fancy wheels and tires, etc, etc –but, the Turbo Buicks had FE3 suspension, Power Master brakes, fancy wheels and tires, etc, etc which were the best you could get as standard options in the late 80s. Enough about that and drawing parallels to a 35+ year old car.
Now to the crux of the issue: Why did I do it?
Honestly, I am getting older (going on 41 now). Knees are going, and I want to live for today (all of my grandparents are dead, my father died at 61, and my Mom turned 60 a few days ago). In the time it would take me build the equivalent car (say my MCSS) I'd be 50 years old and have committed more resources to sourcing the parts. It took 5 years to build the wagon. I actually did this, looked at the standard and optional equipment I'll have in the Hellcat and found similar parts for a G-body build (right down to a Hellcat crate engine and TR6060 trans) and gave up at $90,000 US in parts (before taxes and shipping) and I still didn't have it all sourced. Looking at the Hellcat as spec'd by me its MSRP (before taxes and fees) is $89,000 CDN. Yikes, right? Okay - back to the Hellcat option: Hypothetically speaking you put $10000 down and finance the rest at $12,000/yr for 8 years to satisfy the balance. That is $1000/mth for 8 years and you are driving the car – not squirreling parts away and trashing endlessly on a build waiting for your 50th birthday so you can be too old to enjoy it at the limit (because your knees and back are toast, eyes yellowed, and your reflexes are dulled) – plus, you can reflect on all that time you took to work on the car you should have been using to raise your kids (who probably found a reason not to come to your party). G-body again: You'd need over 2 years at the same monthly commitment just to accumulate the funds for a fully loaded Schwartz chassis, and another 18 months for the crate engine. 6 months for just the transmission. You cannot build this car for the price of admission – sure you can value engineer a solution but it will come up short. I know – I built a CTS-V wagon wannabe.
Back to me. I have never had a new car made just the way I wanted it (First World problems). Rather, I always had to, or chosen to, settle for someone else's car and had to compromise on what was available – always used cars with someone else's *ss juices polluting the driver's seat for a year or more before I got behind the wheel. My wife has had a new car. My brother. My mother. Step-dad too. My best friend has had multiple new cars. Everyone I know except me. F*ck that noise. I am done settling and making concessions.
Built not bought? Every car was once new. And don't kid yourself – the mods are already on their way because this car isn't perfect (yet). So f*ck that argument. Yeah, there are going to be fat-wallet douchebags at Cars and Coffee with a car that looks like mine loaded to the t*ts with 3.187 miles on it. But, they aren't me. I am going to be the guy parked next to them on big and littles with the 10 second time slip laying on the dash, car seats in the back, and stone chips (the greatest trophies) and orange cone rash on the rocker panels. They are going to wish they were me while sucking on their double whip cream-mocha-frappa-bullshit failing to make eye contact as I am choking down a small black coffee just to keep my weight down to get that next tenth.
I figure we have 10 good years before everything goes to sh*t and Big Brother takes it all away with environmental regulations and autonomous cars. The only place you'll get to pollute with your old car is on a parade with a permit; and it'll have to worked on by an ASE licenced historian. Calling it now; and if not I'll still have a Hellcat – not looking for a used one trying to recapture a decade.
Bang for the buck and ROI this is a slam dunk business case on all levels; and I have written a lot of business cases. I also work in risk management and the car will always have a strong residual value. Its set: I am buying in – for myself, for my family who I can take with me on this journey, for my friends in Brampton (where I spent my first 30 years) who are building my car and their families who get to have a better life for it, for the Goddamn hobby that needs people to step up.
And I still have a MCSS to build at my leisure – because I ain't going nowhere.
Last edited: