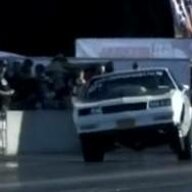 Goat Herder
Supporting Member
Thread starter
I was down to the last thing to be done before Drag Week - install the engine diaper....................................I thought. When trying to install the diaper I discovered the pan is about .020" off the crossmember on the passenger side due to the motor mount is destroyed/melted, crapped out, etc. This wasn't the case a couple of months ago when I decided to not replace them and/or install solid mounts. So :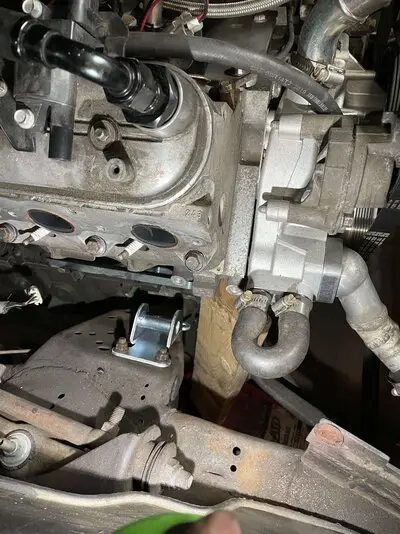 I should have the correct spaced Moroso engine mounts today. But I did find the frame bracket locally. And to add a little more work the list, the stock steer gear that came on the frame that I swapped in 2 years ago, that has had a damp input seal forever has turned into a dripper. So a new gear is getting installed tonight/tomorrow as well.
I'm sure it's obvious from the pic, but the entire exhaust minus the driver side manifold is off - turbo, downpipe, crossover, WG, etc. So a smoke test is going to get performed as I won't have much street time to do a lot of testing for leaks. On the bright side, my flex joints look great - I'm always concerned about them collapsing as seen on a kajillion turbo/boosted posts indicating that they suck. I've never had one fail, but I'm a worrier and I worry about them.
I can safely say that changing motor mounts in a G with the engine installed SUCKS. Taping the bolts into a wrench and super glueing the nut for the lower bolt in a swivel socket is the only way I could pull it off.