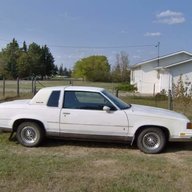 Oct 14, 2008
4,060
1,893
113
At 75mph with my 26.1 tires and 3.42s I'm at 3300rpm, and it's not
bad
, sound wise, but it's annoying and puts unnecessary stress on an otherwise low strung engine. .67 O/D of a 200r4 would put it at 2200. Much More livable.
29.2" tire, .67 O/D, 4.30 at 75mph calculates out to 2486rpm for this calculator. Always been accurate +/-100 rpm for me.
https://www.crawlpedia.com/rpm_gear_calculator.htm
I get 2488 rpm at 75 mph and I find it within 50 rpm using GPS. That will put you at lower rpm than my planned 3spd TH350C and 2.78 gears with 26.3" tall tires and the converter locked up in my 70 Cutlass.