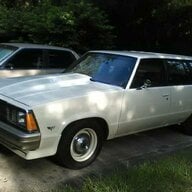 Rocket Powered Basset Hound
Would anyone happen to have access to a picture or an accurate illustration of the rear Cutlass Cruiser or Buick Century /Regal wagon bumper fillers?
They are unique to this type of vehicle and a picture would help in trying to match these parts.
Thank you!