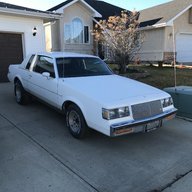 Northernregal
G-Body Guru
Progress report:
I ended up getting the drivers side exhaust off, pulled the UMI Connector bar and getting the brake connection tight. I had a heck of a time with the passenger side banjo fitting, Ended up changing the seal rings and now it seems sealed. Loaded up the brake pads and did the old vacuum pump, one man prime up. It is ready for when I have an assistant to final bleed hopefully tomorrow. Decided to leave the exhaust and suspension off until then, just in case.
The brakes ate up more time than expected so I didn't get sheet metal on the front. Got the accessories back on, alternator wired up, a very dirty F41 steering gear that feels like 2 3/4 turn lock to lock, happy with that (if it works, hence why it looks ragged
). Diff is topped up so I could get a little more oil on the floor, little splash of friction modifier for good measure, the ol' ford 9 wanted 3.8 quarts of royal purple and it DOESN'T leak
.
Going to price out the driveshaft tomorrow at the local driveline shop (the rip off artists) then get a quote from strange engineering. So probably order a strange shaft and billet yoke, just for good measure. Then dump 5 gallons of fuel in and run the pump to set the pressure and get the sheet metal mounted so I can run and mount the NITROUS!!!!
Gratuitous progress pic. Sorry is isn't more exciting.