I wasn't really planning to mess with this thing too much, but it seems inevitable. It's a 1988 Cutlass Supreme, and I bought it entirely because I had an '87 when I was in high school. Nostalgia, it makes you do stupid things.
It had sat for 10+ years, as it was a project that was started by a young man who still lived at home. He wound up moving out, going to school, getting a job, and just never came back for it. Eventually his father decided he was tired of it plugging his driveway up. He had regularly driven it around the block or at least started it, so it seemed promising to me that it would be mechanically okay to more or less immediately start driving, but I wasn't willing to drive it home in case it wasn't.
The first hurdle then was getting it on and off my trailer. I recently purchased this trailer as an upgrade (not with two Gs) over my last one, and it's a lot higher and has short equipment ramps. I planned to build new ramps for it, but that didn't happen... So there was some major sketch factor in getting it on and off the trailer.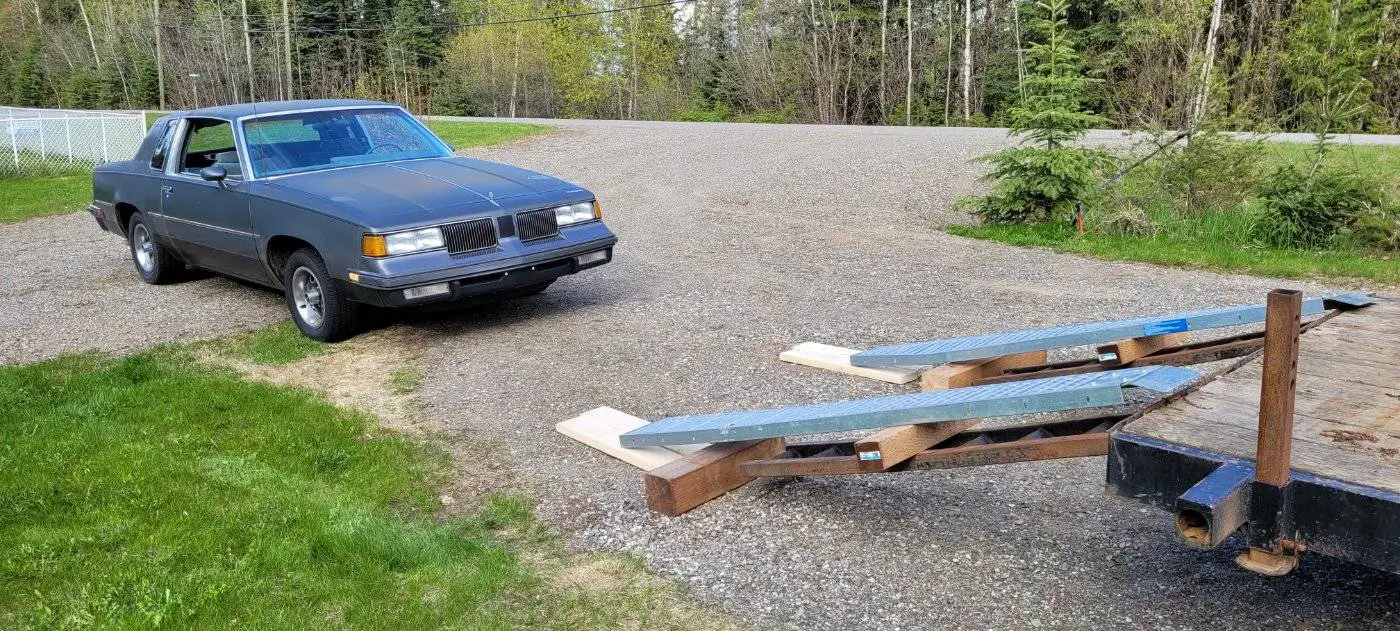 Unloaded from the trailer... It's not totally accurate of how sketchy it was, I had ratchet strapped the ramps so they wouldn't slide. Still, I don't recommend this.

The car doesn't look too bad from far... But it's far from good. You can see the telltale signs of the door strikers and hinges being worn from here even.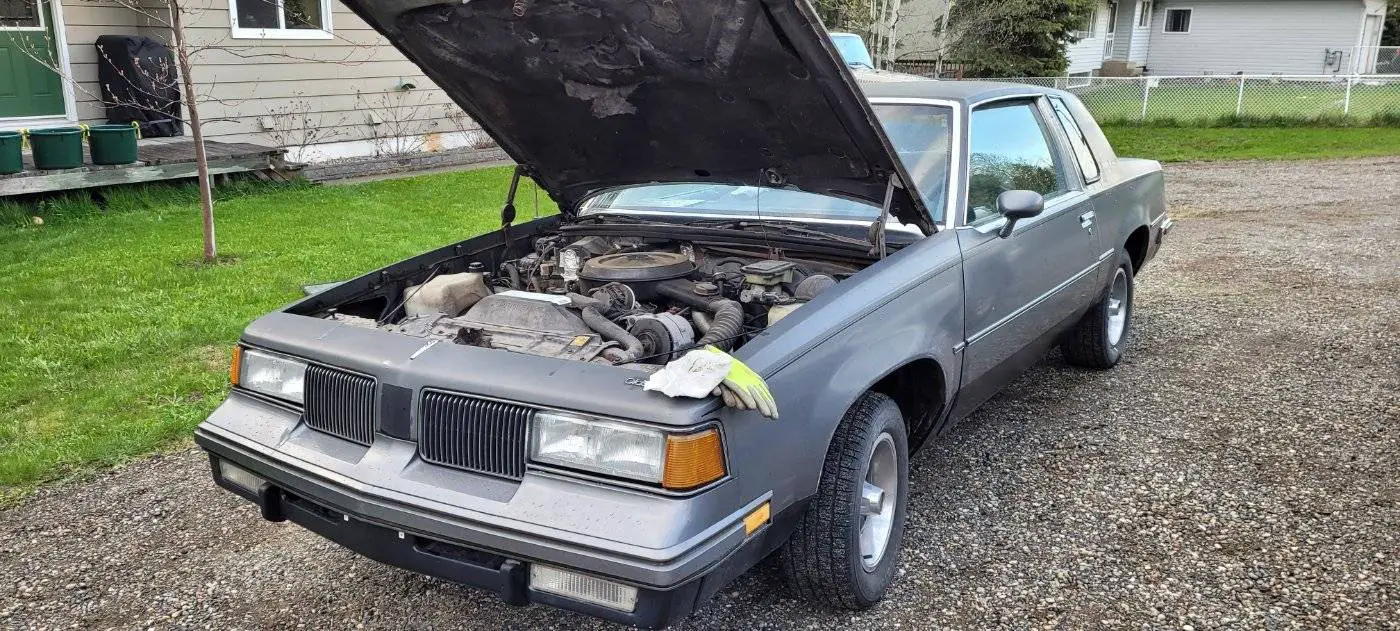 The worst thing body wise is this seam where the vinyl top delete was only half finished.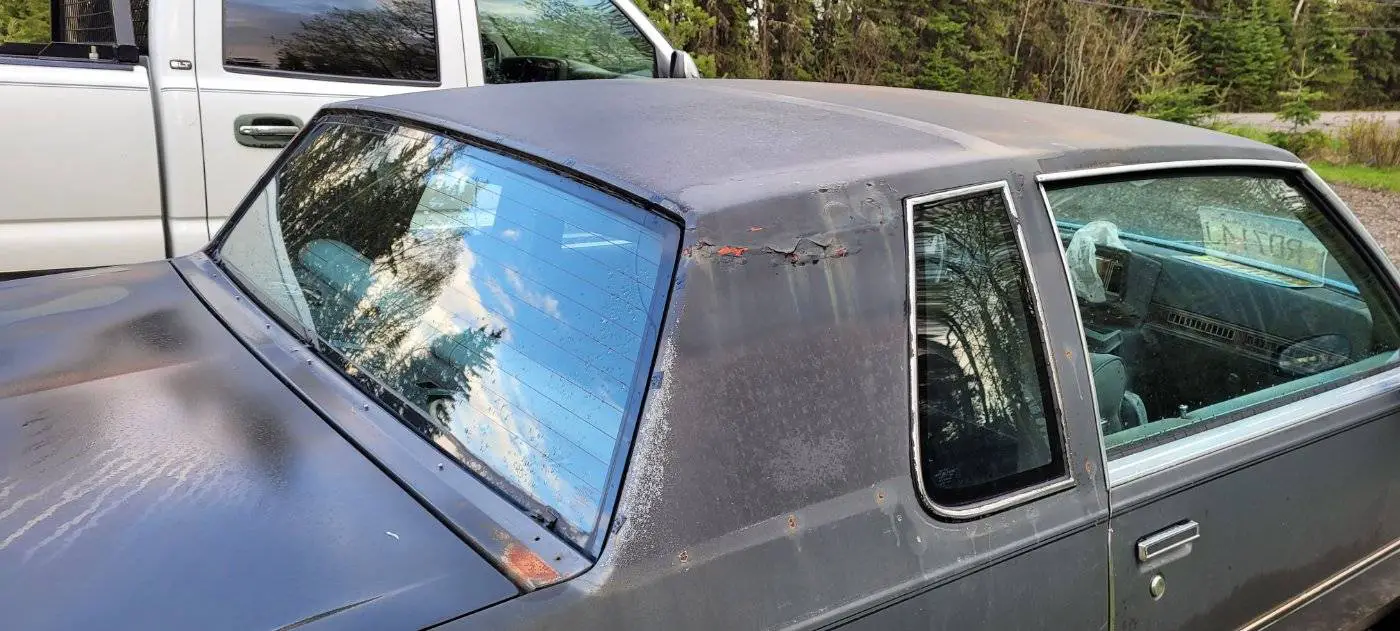 However, the hood is rusted through at the front edge, I guess that's common, and the driver's door has a spot that's rusted through. Currently I don't know what I plan to do with the body/bodywork. I might clean up that failing seam and give the car a quick rattle can job since the paint has failed in so many areas. Or just rock it for now. Reasonably I should at least weld up the holes from the vinyl top first too, although maybe there's a filler available now that would be faster/easier? I do want to put the trim back on for the rear window, but there isn't any studs for the clips, and I don't know if I have all the pieces.