What's up? I'm kinda new to this forum, I've read a few threads and checked out a few pictures. I have a 78 Cutlass Supreme that I bought for $2,500.00 about 8 years ago. I haven't done much work to her except oil changes, ball joints and lowering springs. I haven't driven her much the last 3 years especially after Hurricane Harvey, it was flooded half way up to the door. The transmission had water but I flushed it out and drove it. I bought a house and she's been sitting there since. I've fixed the house as much as I'm going to last year so I'm going to spend this year working on the Cutlass.
I guess you can say I'm mechanically challenged but I have been inspired by MJScarangella's Monte Carlo build. I want to do a LS swap. I hope to have the majority of the work done in a year. I've been thinking of going with the Holley setup but it's pricey. I want to go with the 5.3 liter and 4L60E combo. I've never done a swap before and I know there will be a lot of new experiences for me on this build. There are a lot of really good threads here that I have enjoyed reading and following. I'm going for Kimshaidy's Malibu's look. As I scroll through the forum I see a many more awesome builds.
I set a deadline for a year but I don't see that happening, I ordered the Holley engine swap and transmission crossmember.
I can say I do want to get the show on the road but I know it will be a slow process.
When she used to be my daily driver.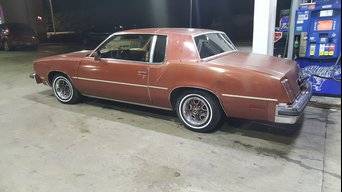 How she is at the moment.