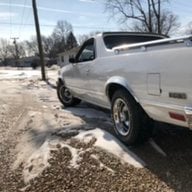 white85
Not-quite-so-new-guy
Anyone here have any experience with the Speedway bolt on kit. I'm in the middle of swapping my rear end for a posi and being the rookie I am with G bodies just found out how hoakie the wheel cylinder retainer is.
I think I would like something a little more stable and also a good excuse to upgrade
This is the kit I'm referring to.
If you dont want to spend and arm and a leg on a rear disc brake kit and still have to weld the bracket on, weve got you covered. This kit includes two bolt-on caliper brackets, two 11-5/8" vented rotors, two GM metric style calipers, brake pads and hardware. 5 on 4-3/4" bolt circle Fits over...
www.speedwaymotors.com