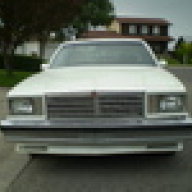 O. D. Showtime
Comic Book Super Hero
Well looks like due to my inactivity on the site my This & That II thread has disappeared.
I'm going to start back with listing this set of original reclining bucket seat trim pieces. Parts do show some age/use related wear and the chrome finish is thin in some spots but there are no cracks. All mounting tabs are intact. I'd say good driver quality pieces...not show quality but certainly nice for a drive or replace your missing or broken ones. I'm looking for $75 for the set.
SOLD
I had someone looking for these a while back but sadly I can't remember who it was..
I can provide more pics if required but I'll have to ask that you be patient as I'm recovering from a surgery about 10 days ago and I'm still moving a little slowly.
Thanks for looking!
Last edited: