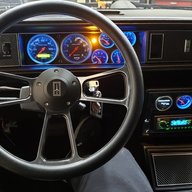 Not a d*mn GN
Supporting Member
So guys, I've been kinda dormant here compared to normal. It's been one heluva long month. It is with the heaviest of hearts to spread the word of my dad passing away today at 1522hrs due to complications from Covid at 74 years old.
It started Thanksgiving weekend kith kidney stones, then on December 10th he had a procedure done to minimize it. Unfortunately he aspirated coming out of anesthesia which triggered pneumonia to start, but he had already caught Covid. He felt like crap and went back to the hospital on the 16th and never came home. It basically shut everything down, and he said he'd fight to come home. He declined rapidly over the past few days, and peacefully went to heaven.
He was a Vietnam Veteran and super proud of what he did, taught me about wrenching, loved and was loved by everybody he met. He will be laid to rest at Fort Knox Veteran Cemetery with full military honors.. He will be missed dearly, he was my best friend. RIP good sir, see ya on the other side.