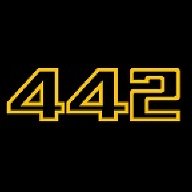 Mar 30, 2012
1,561
756
83
Fellow Oldsmobile enthusiasts, I am considering selling the moderately built Oldsmobile 403 long block from my 1986 442. After the LS swap I hung onto it in hopes of finding a good roller but that isn't happening anytime soon. I am now considering selling it on Craigslist or the Homecoming show in Lansing. I realize I will not get my initial investment back but looking for your thoughts on a fair asking price. Here are the details. What do you think?
Pulled out of my car in running condition for fuel injected motor - LS swap.
1979 Trans am Olds 403 with under 5K miles after rebuild
Hot tanked, line bored, .030" cylinder overbore
TRW forged pistons (9.6 : 1 compression ratio with #5 heads)
Melling high volume oil pump
MSD HEI with custom distributor curve
Nice 800 cfm Q-jet with big secondary rods and primaries. Throttle shaft is tight.
Competition cams (have specs somewhere - moderate cam lope)
Comp roller tip valve train
Edelbrock performer intake
Around 2014 I added 1968 #5 heads with 455 stainless valves, bowl port and polish.
Exhaust dividers welded for headers. Over $1200 invested in heads alone.
Before putting in another car I would install a new rear seal.
Compression is good but there is slight scoring in 2 cylinders that I will clean up with a drill hone.
There is no step at the top of the cylinder wall.
I've had this car at the track only a few times. Best time was 13.1 @ 3860 lbs at the time.
Even with the lopey cam this engine produces a lot of low end torque. Smoke the tires at will without power braking as shown in the video.