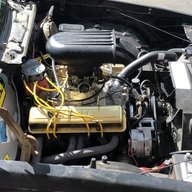 Oldsdank81
Not-quite-so-new-guy
Hello All. Hopefully this is the right thread for this post.
I've been looking into swapping from a v-belt for quite some time. I've read several threads here about them and it seems like the heads are often the problem.

I snapped some pictures of the front of my engine. To see if I have the necessary holes for all the brackets to Mount up.
I found a whole set local and have sourced a few in the pull it yards nearby.

if I'm able which system will work best with what I currently have?

thanks for any help.