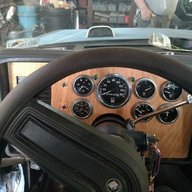 Buford T. JuSStice
Master Mechanic
I'm sure this has been beaten to death in the forums, but I must not be using the right search criteria because I haven't found a thread that satisfies the question I have.

I've got a 700R4, swapped from a 200C. The original shift linkage reaches, but it's off angle and putting the car into "P" sometimes results in it actually being in between "P" and "R" which is no bueno. I tried modifying the linkage, and for a little while it worked, because the car could go into and stay in park, but only if you really slammed it home and held it there. I found out the hard way already that the shifter position is enough to engage the ignition electrically, but mechanically the transmission isn't fully engaged into Park. The result was my starter getting it's teeth gnashed up hard. Before I bother swapping the starter, I better fix the shifter.

So is there a fix for this without going to a floor shifter? With a 200-4R column shift linkage work?