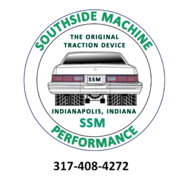 SOUTHSIDE MACHINE PERFORMANCE
GBodyForum Sponsor
We wanted to go over the kit and answer most of the common questions and details (see bottom of this post).
The weld on bracket kit deals with the instant center issue and upper control mounts.
This control arm kit from SSM Performance is designed to bolt an Ford Explorer rear end into GM G-Body, A-Body cars; this includes Chevelle, GTO, Monte Carlo, Malibu, El Camino, Regal, Grand National, Grand Prix and Cutlass and many others. These upper control arms are built at the correct angle and length to attach to the the truss and chassis. The relocation bracket kit will allow for proper instant center (geometry) changes. The adjustable lower control arms allow you to center rear.
(Found in Ford Explorer)
Ring gear measures 8.8".
31 Spline axle shafts with a 1.32" diameter
Ratios: 2.26, 2.47, 2.73, 3.08, 3.27, 3.31, 3.45, 3.55, 3.73, 4.10 & 4.56, 5.14
Door codes that are limited slip (posi)
D1 3.27
D2 4.10
D4 3.73
D5 3.55
L73 3.73
These are stronger than the Mustang 8.8 with 28 spline
THIS KIT IS FOR THE PERSON WHO DOESN'T WANT TO SPEND
$1900 OR MORE ON A 9" REAR-END.
Our extreme duty control arms allow for pinion angle adjustment for reduced vibration and increased traction. Our exclusive Polyurethane bushings offer controlled positioning during suspension travel which improves traction and rear suspension efficiency. This item is a must for any high horsepower
Benefits: Pinion angle adjustments for improved traction and reduced wheel hop. Heavy duty construction for long lasting durability on the street or track. Complete ready to bolt-in and most kits includes polyurethane rear end housing bushings.
2, Adjustable lower arms
2, Double Adjustable upper arms
2, Upper control arm mounts
2, 2 hole lower adjustable control arm mounts
2, coil spring pads
1, axle truss
Ford 8.8 NOT included
The control arm kit is all bolt on. The simple fabrication to the rear-end obviously will require welding.
These are truly overkill! All grade 8 hardware is included. Made in USA!
All parts are custom built in house. Indianapolis Indiana
Please give us a call before your purchase to make sure this is the right kit for you. We have several kits available for different types of cars.
These are stronger than the Mustang 8.8 with 28 spline
THIS KIT IS FOR THE PERSON WHO DOESN'T WANT TO SPEND
$1900 OR MORE ON A 9" REAR-END.
The control arm kit is only $400 and the truss/ bracket kit is only $200.
Common questions...
Q. What years of Explorer do I look for?
A. 1991-2001. Earlier models have drum brakes and later have disks.
Q. Do I need to narrow the rearend to fit.
A. NO.
Q. Does the rear need to be centered?
NO. The u-joint will work at the slight angle with no issues.
Q. How wide is the Explorer 8.8"?
A. The 8.8 will be a bit wider than stock. 3/4" each side. Stock 7.5" is 58" and the Explorer 8.8" is 59.5".
Q. What wheel and backspacing is needed?
A. 4.5 BS on 8" and 5.5" on 10". The Explorer rear will give you 6-3/8" clearance between the frame rail and the wheel mounting surface.
Q. Do I need to redrill my axles and rotors?
A. No. Just use a Ford pattern wheel to keep cost down.
Q. Will I need to shorten my driveshaft.
A. NO. You will need to replace the rear u-joint.
Q. Can I still run tailpipes with the truss kit?
A. Yes, we have used 2-1/2" and 3" tailpipes with this.
Last edited: