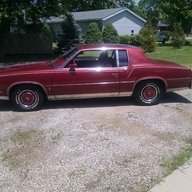 DoubleV
Royal Smart Person
I'm on the understanding that only 78 model years had the 'straight' style rear swaybars? Are these inferior to the later 'normal' rear swaybars? Was that why they were changed?

My 78 Calais comes standard with the better suspension ( whatever they called it in 78 ), but my straight style rear swaybar seems kinda puny compared to what I remember my stock F41 rear swaybar looking like that was on my 85 442.

So bolting on a later style F41 rear swaybar would be a nice simple upgrade if it would in fact be an upgrade....