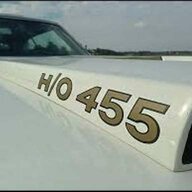 69hurstolds
Comic Book Super Hero
Supporting Member
Amcor wheel locks, still in Michigan, was the original manufacturer for the GM accessory wheel locks you could buy from GM back in the early days of the G-bodies. Their website, however, is abysmal. I have an old set of the locks and in the box there is a card with the lock key code on it. If it starts with an 07, it's a Z7 key, and if 08, a Z8 key, and if 10, a Z10 key, etc. On Amcor's website, you can buy a key to fit your lug if you still have the card but are missing a key. If you don't, if you can carefully remove a lug and send it to them or send one in and they can hook you up with the key. Strangely, though, they sell master key set too. Hmmm. They sell complete 12mm lug kits in the Z7, 8 or 10 series as well.
The thing I like about them is that they look more closer to what the rest of the non-locking lugs looked like. They blended better. Later on, they had the cookie cutter end where the shape fits the slot on the end.
At any rate, over the years, GM changed vendors, and I think it was McGuard wheel locks when I had the 2002 Camaro. Not sure now who supplies them with locks.
But if you want some old school locks you can search around and find the old ones. Or you can still get them directly from Amcor for $35 per set. Note, these are chrome and for 12mm studs. 82-88.
Complete Sets- Easy to use wheel lock functions like a regular lug nut, but requires a special key tool to install and remove.

www.amcorlocks.com