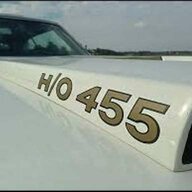 69hurstolds
Comic Book Super Hero
Supporting Member
....that makes me sound like a liberal.....
You
are
Canadian, aren't you?
As stated, though, I'm not sure what the difference is, if any between the border and borderless glass. I'm thinking if you're using new weatherstrip though, it may seal adequately. There's the primary and secondary seals, as well as the glass seats pretty tight. But I don't know if there's a difference in how they clip into the center channel.
But I suspect there may be differences, so I checked the T-bar. According to the G-body parts book, they used a 79 (larger panel, without frame) through 85 T-bar and an 86-88 T-bar with different part numbers. 79 through 85 it's 20113281 (discontinued in 1997), for 86-88 it shows 20674345. Hmmmmmmm. Again, what's the difference? The number isn't a supersession number, so something is different about it.
Interesting the 78-79 info on T-top glass it shows a smaller with frame and larger without frame. Wonder what the real difference is with that. I haven't followed the 78-80 A-body tops.