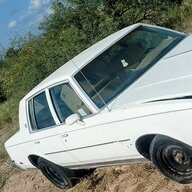 Master Mechanic
Supporting Member
Finally the carburetor to arrive today. Originally ordered July some time.

So next week I'll start the TBI to Carburetor conversion.

Will try to do everything by the numbers as much as possible and take good photos through out.

Hopefully can show how to make a proper wire loom and fuel system, and then setup and final tune.

Everything getting changed. Fuel system, new wire loom, new HEI etc...

Base vehicle is 91 Caprice, 305 Roller Cam TBI V8, 700R4 (3 Speed +1 Overdrive) Auto Transmission.

Not sure of current rear gears. But probably will change to 3.73 or 3.55 Posi.