So, after having previously locked down a 454 4wd gmt400 series burb to be a tow pig, I've still kept an eye out off and on for what I'd really wanted... an 8.1L 4x4 truck.
Wasn't going to jinx things by announcing earlier, but Thursday gave a card deposit over the phone and this morning formally pulled the trigger and completed the paperwork on a 2002 GMC Yukon XL.
I was able to get away with it by rationalizing that it would nominally be the wife's spare vehicle to use, and how much teaching supplies she could load in and out without needing to deal with tailgates - and drive herself. So... add another project truck to the list of running backlogs.
Basic specs: dark blue paint, about 120k miles. 8.1L, 4l80e, 4x4, 4.10s, g80. Leather. Dual zone and rear climate control. Power heated seats and entertainment system. Brake controller, rear tow hitch, front tow hitch. Running boards. Power adjustable tow mirrors.. Still has working factory cd and cassette players. Barn doors. Oversize towing airbox, trans oil cooler. Autoride suspension. Has an exhaust upgrade of some sort. Came with a pile of paperwork I really need to read up on because the selling dealer didn't know what they had.
Was traded in and listed afternoon of March 3rd, not even cleaned/detailed. Morning of the 4th I was giving them a phone deposit on it. @ $5k I think they thought it was just another 20 yr old suv, one time where the "no haggle" automated pricing of a national chain works for the little guy!
Yes, I paid their full price, and yes, I paid their stupid doc fee... but I also got full weathertech mats for front, middle, rear, and cargo areas that are covering rip/wear/stain free dash.
Overall looks to have been pretty well cared for, down to having a set of michellins on it currently at about 70% tread.
It's a good daily driver/10 footer, for now. It has some mild gmt800 trim and rust issues starting owing to having been an Arkansas and Memphis TN area truck for many years.
I'd prefer the mid row captains buckets, but the bench is easier to fold down for the wife anyways. Also a few other little options I'd like, but, how picky can you be on a 20 year old truck anyways?
My guess from watching these the last year or so is I could wait for the title and slap 12-14k on it fairly easy as a flip. - not that I would, just making the point about the stupid money they seem to be bringing.
So far, the drive from Memphis to the bama/Georgia line has seen a somewhat unexpected 14mpg hwy @75mph.
Here's a pic of it with the chase car when we stopped to eat. Keeping with the theme the last 5 years, it's another blue one.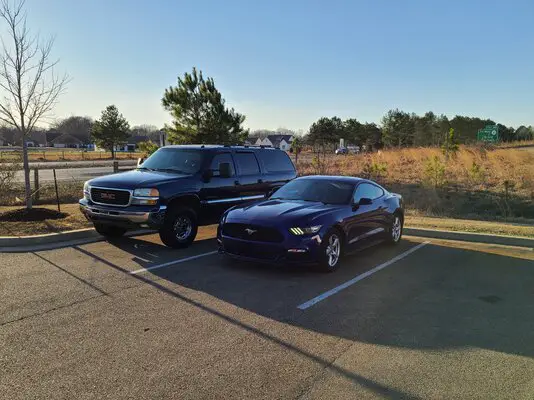 Last edited: