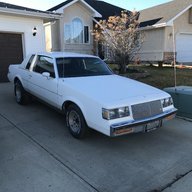 Sloppy McRodbender
Supporting Member
Well here I go.... The build has kicked off.

I'm new to the G scene but not quite new to doing stupid things in cars. Hopefully I'll represent something that will be enjoyable enough to read between a Hafrod and Rktpwrd thread. Lol

So the goal here is a daily driveable sleeper capable of embarrassing the best factory offerings on the road these days. It's gonna take a while to get all the way there but that's half the fun. I'm gonna keep a few surprises along the way to make up for my sad lack of advanced refinishing skills. Ha!

So day one started with a handful of Delco boxes from Rockauto. Because I found the car on kijiji and it had been sitting a while, fresh brakes were in order so I can drive to work with it.

So off with the old seized crusty front calipers and rotors. Rotors were probably good enough to resurface and I didn't know they were the hub... learning things already... but what the heck. They were cheap on rockauto. So fresh slate on the stopping, they aren't permanent but the 14" front runs wouldn't permit the next step and finding rims that fit a 5x4 3/4" car bolt pattern aren't as easy to find up here in the north so this will have to do for now.

Hopefully if I get the Christmas lights up early enough tomorrow I can get the rears done tomorrow.
Last edited: