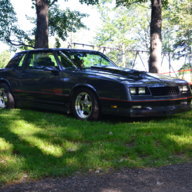 GuysMonteSS
Royal Smart Person
I thought that I would start a new thread rather than continue this one;
I started a thread on this last year,but it is closed to further replies. Anyhow,I was looking at a set of Isky's latest design bushed lifters with the Helix option; http://www.iskycams.com/downloads/ISKY-EZRollHelixFlyer119.pdf So after a pretty good winter at work,with few days off,I decided...

gbodyforum.com
I am finally getting around to putting my new IskyEZ Roll Helix solid roller lifters in the 513 BBC.
So far I have the top of the engine stripped down and the gasket surface on the heads and china wall are almost clean.
I dont want to take any more chance of losing a lifter like what happened in 2014.That caused a lot of damage and cost a lot of money to fix.
I hope to get this done in the next couple of days.
Its awful hot and humid,so I only do so much at a time.Then I need a nice cold beverage to help me cool off
Guy