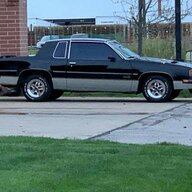 Apprentice
Supporting Member
I was searching the forum about this and thought to ask a few questions and start a separate conversation.
I'm installing a built 403 in my 87 442,I believe about 475 to 500 hp. (Don't have dyno results yet).
My old 200r4 trans will be replaced with a th400. I know it will handle the power but what else have I not considered? Drive shaft length? No overdrive (I do drive freeway sometimes) different cable length? Speedo issue? Always appreciate the knowledge here. Thanks in advance!