The 2012 KK Liberty had an EVAP canister about to fall clean off. Here is how I spent my Saturday afternoon. Getting the old bracket out was a nightmare. First I removed the canister from the plastic mount by removing the single bolt that secures it. Then it pivots off. I was lucky enough to get the two frame bolts out after much penetrating oil was applied. Then I had to grind off the bolts that hold the plastic mount to the metal bracket.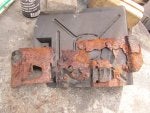 Not much left to work with. I grabbed an old street sign and cut a 3" x 15" strip off.
I measured the frame hole placement, drilled holes, and test fitted the strip up onto the frame. Nice fit.
Then I took what was left of the metal bracket and used it to locate the plastic mount holes. There was only one hole available to do that but that was all I needed. After that hole was drilled in the new bracket, I used flat headed stainless steel license plate screws, washers, and nuts, to secure the bracket to the plastic mount. After that I just made two more new holes where I thought they would offer the best support. I screwed those in too using Loktite to secure everything, then ground the excess screw shafts down flush to the nuts. The thin flat headed screw heads I placed on the frame side so they would not interfere with mounting the bracket to the frame. I replaced the canister on to the plastic mount. I swabbed the frame holes with anti-seize, and the bolts, and bolted the bracket to the frame. Perfect. I could not see replacing crap with crap so this should outlast the rest of the body.
Good old NOPAR metal. It starts to rust right at the factory. Street signs are made of Vibranium and I use them to fix aluminum boats.