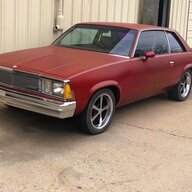 "That wagon guy"
Supporting Member
Thread starter
SSpev
Rather have one from someplace less harsh to sheetmetal, but it's still a possible. If i have to paint part of it, that usually snowballs to a complete refinish. I already have one of those. I like what you've done with the cargo area.
Ideally, looking for something close to "done"....
That one Jack posted a couple months back on Hemmings was interesting, but guy was unresponsive. Then there's the 20K 4 speed that keeps popping up (with higher price everytime), but the 4 speed rarity means nothing to me.
I figure it might take a few months. in the meantime, I'm trying to finish up the loose ends on my coupe, then will move on to the avatar or it's replacement
Last edited: