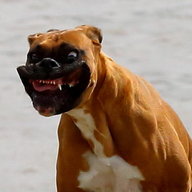 Aug 15, 2015
1,000
978
113
For those that know or just e-know me and others that have heard me talk about her and our other 4 legged kids . . .
Our Xena the Warrior Princess, Toy Manchester Terrier, lost her battle with life today at nearly 17.
That 3 mile drive to the vet was QUITE long and yet not nearly long enough . . .
Oct 6 2001 - Apr 9th 2018 RIP Sweetie!
How can you not take me home? Of course, she was my 3rd and I'm already looking for a 4th. Amazing and somewhat rare dogs.
Doing her most favorite thing in the world . . .
Treto, our Boxer, not known for his gentleness, even knew something was wrong in recent days . . . he nudged her a couple of times trying to get her to go play but then just laid down beside her and I was lucky to get the shot.
And, since I've been dealing with my own health issues at home lately, we had our time to say goodbye. Blessed because not everyone does . . .