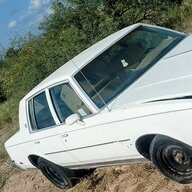 Master Mechanic
Supporting Member
This is definitely "I am a mechanic" post, plus hope to answer a question from another member that needed steering column repair.

The previous "Mechanic" needed to R&R the lock cylinder. Photos below.

Pics show damage done, and the mess.

Instead of doing the job properly, he decided to drill it out.

I ordered the repair parts and will post how to do this correctly. Parts are supposed to be here Tuesday afternoon.

Maybe this will help someone else down the road.
Last edited: