It's pretty much official at this point - back to the old fashioned burbs. Cash offer - accepted. Inspections - passed. Only thing waiting on is title work from the closing attorney wo tells me it should be good, been holding off on making mention as not to jinx anything but papers will be able to get signed by next week.
Over the past 3 years where we've lived in Coastal Georgia has gone pretty well downhill. Apartments and townhouses going in everywhere. Density is up, drivers are becoming more and more.... a**hole-ish, costs are up and quality of goods and services were down, even pre-inflation nightmares. People living in the area have no skin in the game, no pride of ownership. Now, in the past year or so, town boards have approved another 3000+ units of apartments and live/work BS within 3 miles radius, on top of the last few years explosive growth. All this with zero budgeting in improving infrastructure theyve been studying as overwhelmed already - roads that can't handle current density at any time of day except middle of night. Lots of inner-city culture spilling outwards. Then youve got so many of these apartment dwellers and townhouse owners buy multiple larger breed dogs and think your yard is their walking grounds and bathroom, as if they're entitled. So, aside from my passive retaliation by planting poisonous and thorny plantings by our property edge ditches to discourage or reward them for entry, I've looked (and occasionally hinted here time and again) about our desire for large parcel land... well, quality of life has gotten so bad while that's still a priority, in the short term we're making a small hop in the meantime and waiting to see about the bigger permanent purchase.
Just not willing to put up with things any longer.
The new place is in a fairly built-out area of unincorporated south effingham county here in GA. Everything nearby the new place will at least be about what it is going forward, being fully built up with houses that have high enough values that buying them to raze and subdivide isn't in anyone's interest. So we'll be safe from density, not that the part of the county really supports low-pricepoint housing or multifamily units. Also, no sewer service means you need to support a primary septic and alternate sites on your land areas, so, big lots. And for new construction, those high land costs/large footprints mean builders are only putting in higher priced homes as well.
House itself a bit of a downsize for us at about 2500 Sq ft of single story living... for now. Might add a separate owners suite off the side or back for comfort. But it's usually just the two of us here so it's plenty of space for our uses. Currently one has one indoor fireplace (will increase that early on), some dated building features that can be updated like the in-wall speakers, older fixtures, etc. Upsides include has a 1 yr old roof with architectural shingles so who knows, maybe more life in it than I may have and is solid brick, 200 amp panel, a few years left at least on the water heater, heat and air stuff, etc, nat gas on site, underground utilities, high speed internet, the good stuff.
The lot is also smaller than my tastes at a bit under 2 acres, and smaller than what I'm accustomed to, but, has a very unique layout that plays much larger. It's in an older executive subdivision from the late 1980s, and the road is a unique layout. Roughly 60% of lots are "corner lot" types with road frontage on multiple sides, BUT, get the benefit of a side yard setback for zoning because there isn't a separate street, just a single winding one. From a privacy standpoint the non-thru usage road has low peak traffic count of about 60-ish cars a day, and less as deep in as we will be but gives an extra 50 foot row buffer to the neighboring properties on 2 sides, whose houses then have 100 foot building lines. For practical purposes, it means you get one neighboring house about 120 feet at closest point, but the other next closest homes in each direction are between 250 - 350 feet away.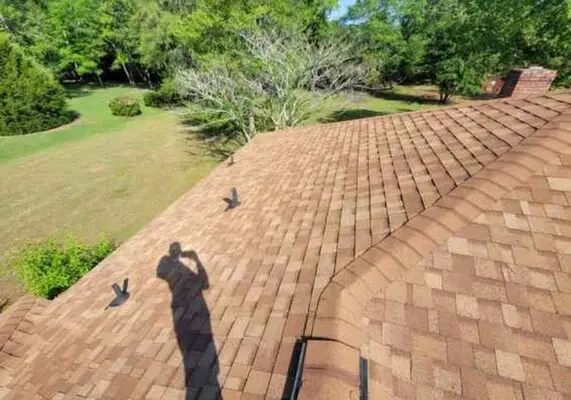 So no being on top of neighbors, or them being forced on top of you!!!
My lot will also be one of only 3 in the subdivision meeting current zoning requirements to subdivide, nobody can come any closer.
Most importantly.... NO HOA. Currently ours will also be the 'ugly home' of the street if there is one - old landscaping dating to when it was built with many plantings around end of life, faded shutters, no accessory structures or pool, etc etc. Not to say in bad shape, it's not, just isn't up to the newest standards many other homes are.
While I haven't met any new neighbors in person yet, they seem friendly to the hobby - across the street in one direction is two gmcs and 3 corvettes I've seen. Another has a 70s f-series and 80s d150. Next door is a guy with 2 caddies and a zl1 camaro. All have detached additional garages with multiple bays elsewhere on the properties. One other house is separated by woods and I haven't been out that way. The guy with the Dodge was outside tinkering with it when we went to an inspection in one of the GHIG mustangs and although I didn't see, my wife said he waved when I asked what she was waving at while we left.
Not a huge distance move, but, gets us a good 30-45 minutes away from the s*it show we've been dealing with and maintains a zero mortgage situation. No need for a bridge loan when we decide to move elsewhere again.
In speaking to some local realtors we know, after putting in our updates the house is estimated to retail $106-131k more than were going to be spending. So, if we hold it 2 years, even if there's any market downturn we likely cover our money back + inflation and keep the difference tax free. If it appreciates? Even better. Subdivision across the street has some new construction selling 40% more money than our place for smaller homes/lots, so that's another good sign. That's why it makes financial sense even in this market to buy something we don't intend to remain in long term.... but, to get away from low quality of life and crazies of a fiscally and socially liberal county back into a fiscally and socially heavily conservative county would be worth it even at a loss.
So lots of work coming in the weeks ahead.
I'd REALLY like to get the firebird more drivable than the scary fuel situation that has me fearing a fire before the move, but we'll see. Will be closing likely next week on the new place, then doing a little light painting work before moving furniture over. D-Day to be out, cleaned up, and gone entirely from cheat-em county is no later than mid-June, then the current place goes up and available.
Last edited: