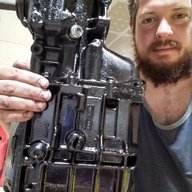 Pendejo
Supporting Member
So right now I have no drivetrain in my 83 Regal. It came with 4.1 that had been sitting for 20 years.

I'm installing a Chevy 350 with a T5... But right now there's nothing in the engine bay to give me any reference.

Where does the frame mount for the z bar Pivot bolt up? It looks like something I'd rather install before the engine goes in. There's three holes drilled in it, but I just can't find any location that makes any sense to me...

I'm sure I'll feel find when I find out. LMAO.