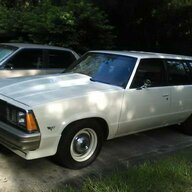 Rocket Powered Basset Hound
Glass run channel is what I need I called them the felts
NOS type run channel is not available for A/G-body wagons per se. I was able (and fortunate) to find an OEM driver side run channel from a GM dealer. This was several years back. These are not reproduced as a ready to install unit. My friend who has a Cutlass Cruiser wagon ended up purchasing run channels for a B-body GM vehicle. The upright /vertical portion is allegedly a proper fit, but the forward top portion is a tad too short. You will need to find an aftermarket strip and splice it onto the new vertical (B-pillar) channel. I'll go back and find the part # for you.
https://www.rockauto.com/en/moreinfo.php?pk=1859214&cc=1049396&jsn=899&jsn=899
There is a list of them on RockAuto for a 4-dr '80 Impala.
Check these out in the meantime.
Of course, your other option is to find a good set out of a 4-dr G-body, and that's like trying to find the elusive Hen's teeth.