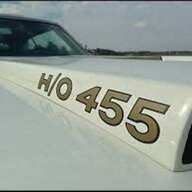 Comic Book Super Hero
Supporting Member
Building weld up on the broken bolt is easy. I highly recommend this method. Make sure you protect the head from weld splatter and you will be OK. As you can see in the pic below I used a harbour fright flux wire welder and duct tape which worked OK. I had 3 broken bolts on the 5.3 heads that came out easy with a vise grip.

View attachment 121448
I've had the same thing happen to me. I was lucky it was on a 5A (307) head and it was a "through bolt" hole. Just drilled it all the way through and then used MAPP torch to heat up the head area around it and it eazy outed right out. I still think I was lucky.
Olds heads suck when they eat your bolt.
Anyway, glad to see you here! How you feeling lately?